A Smart City visit to Dublin and Belfast
---
This May, I had the pleasure of joining a group of chief information officers (CIOs) from different European cities during a visit to the smart city teams of Dublin and Belfast. This was organised by the Council of Global City CIOs – a forum for city innovators to share smart city best practices, supported by Bloomberg Associates. 
Dublin
---
We started our visit at Dogpatch Labs – a vibrant startup hub located right in the heart of Dublin's Digital Docklands. There, we met with Jamie Cudden, Smart City Program Manager at Dublin City Council, who shared details of the smart city journey Dublin has been on. The Smart Dublin programme is quite mature by smart city standards, starting in 2016 with the enthusiastic support of the City Council's CEO. Today, its team of 25 people provides the city with the headspace and resource to think about the opportunities presented by better use of tech and data. 
Key areas of Smart Dublin's work that we learned about included:
Experimenting with drones – Following the principle that if an activity is "dull, dark or dirty" it may be a promising use case for a drone, Dublin has experimented with using them for deliveries, supporting the fire brigade and conducting other types of major infrastructure inspections. Their pioneering work in this area – in close collaboration with the country's aviation authority – is informing a set of handbooks and guidance, and they're currently developing a drone strategy. 
Telecommunications. Recognising that many different teams have to be involved when installing new connectivity infrastructure like fibre and 5G (e.g. digital infrastructure, planning, street maintenance and smart city teams) a dedicated unit has been set up to coordinate across 28 different council departments, helping ensure connectivity infrastructure is put in place in an intelligent and coordinated manner. 
Waste Management – Dublin has experimented with sensor-connected street bins that compact rubbish and send messages to the city's waste management teams when they need emptying. The bins have saved an estimated 97,000 bin liners to date. Further efficiencies are thought to be possible, but this requires helping waste management teams adapt their service model to empty bins only when the data says they're full, rather than their traditional practice of doing so on a set schedule. 
Augmented Reality – We had the chance to experience a neat way of helping both locals and tourists understand the city's history better through augmented reality (AR). Dublin Discovery Trails 'Doors into Docklands' is an app that provides immersive discovery trails of Dublin. By holding a tablet or phone in your hand, the app knows where you are and overlays what you can see with 360-degree images of how the place looked in decades past. 
IoT connected life rings – Dublin has many life rings lines installed along its riverfront. Those rings sometimes go missing (blame over-enthusiastic stag parties). A smart city solution has been found in the form of a low-powered sensor that can monitor and report when the ring is moved or missing, enabling this crucial piece of life-saving equipment to be replaced or repaired as soon as possible. 
Belfast
---
The next morning, we took an early train north to meet with the Smart Belfast team. As in Dublin, Belfast has a wide and impressive portfolio of urban innovation projects that support the city's goals. See https://smartbelfast.city/story/ for examples. 
One thing that really stood out for me in Belfast's approach was its commitment to engaging with local residents to shape the city's activities. Under the "Citizen Opportunities for Digital Innovation" (CODI) strand of their work, for example, Belfast residents are supported to better understand the role of and impact of data and digital technologies on urban life, enabling them to actively participate in the co-design of digital innovation projects to address issues that are important to them.
While many cities aim to engage their residents, Belfast stands out for the level of its ambitions in the form of collective storytelling. Due to open in 2028, Belonging to Belfast is their largest initiative to date: a £100 million investment in an exciting new visitor destination that tells the story of the city "through a variety of media and a mix of immersive experiences". Its aim is to promote culture-led regeneration across the city, enabling international and local visitors to connect with Belfast and one another through stories, screen and social spaces. Check out the video below to understand this more. 
Finally, we learned about Belfast Smart District. Centred around the city centre, the District provides an opportunity for Belfast to work with partners from a range of sectors to develop novel solutions to big urban challenges. Once proven, those challenges can be scaled or replicated across the wider city and region. 
Back here in London
---
Visits like these (including Jay's recent trip to South Korea) are always invaluable opportunities to learn about how other places think about smart cities, which we can then share with LOTI members.
Here in London, there's remarkable innovation happening right on our doorstep, from borough-led initiatives like the South London Partnership's InnOvaTe project, which has tested more than 40 outcomes-driven use cases like flood monitoring, to SHIFT – a living testbed for innovative solutions based in Queen Elizabeth Olympic Park. 
Our role at LOTI is to help London's various smart city initiatives share with and learn from each other, scale proven use cases and direct them to help deliver pan-London goals like net zero, and ensure projects follow the five core principles outlined in our Guide to Designing Smart City Projects:
Be driven by achieving outcomes that meet the needs of citizens, not the desire to use a specific technology.
Be conducted openly, transparently and ethically.
Enable collaboration between different boroughs, systems and service providers.
Be secure by design.
Recognise that technology and data alone are rarely the whole solution.
Like the other cities I learned about on my visit, the level of smart city interest and activity is rapidly accelerating in London. We'll be sharing more about our progress and lessons learned in the near future.
For now, my huge thanks to the Smart Dublin and Smart Belfast teams. I look forward to catching up with them at the next Council of Global City CIOs meet-up at the Barcelona Smart City Expo in November!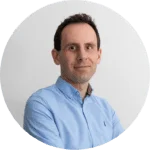 Eddie Copeland
28 June 2023 ·