A Strategic Insights Tool for Rough Sleeping in London
---
Over the last four months, LOTI has led the first phase of an ambitious project to develop a data solution that brings together London's rough sleeping data for the first time.
We are working in partnership with the GLA and London Councils, who have provided strong strategic direction and vision for the project, with continued support from Bloomberg Associates. The design, development and delivery of the tool is being led by applied AI and data science specialists Faculty, with support from Homelessness Social Enterprise Beam.
During this time we've worked with a group of 4 pilot boroughs and 4 rough sleeping service providers to build a Minimum Viable Product (MVP) which supports the project's key goals of making rough sleeping in London rare, brief and non-recurrent.
What is the Strategic Insights Tool?
Homelessness, including rough sleeping, continues to rise. Yet key data has been held across multiple different systems which prevents users from understanding the full picture of their rough sleeping population.  So, we wanted to bring this data together to enable better decision-making and improved collective action that cuts across institutions, services, and sectors.
The Strategic Insights Tool for Rough Sleeping (SITRS) gives decision-makers in GLA, London Councils, Local Authorities, and homelessness service providers, a clearer view of rough sleeping in their local area. The new tool uses a technique known as 'probabilistic matching'. Essentially this helps us to pick up the same person across different data sets and merge it into one single record or 'journey'. Different journeys are then aggregated and displayed within the tool through various user-friendly visualisations. This means we can ensure that data is safely and securely anonymised, while providing insight into rough sleeping journeys across many different systems.
Users can see the journeys through touch points in multiple systems, which include statutory homelessness applications; contacts with housing outreach officers, as they are seen bedding down; and interactions with service providers, who are commissioned to support them through various services.
How did we get here?
Following discovery work led by Bloomberg Associates, Faculty led the design and development of the tool over a 13-week period.
The focus for the first 7 weeks was:
conducting in-depth user interviews and focus groups to develop a core list of user requirements and translate these into technical features;
exploring the data;
trying out data matching methodologies;
developing initial ideas for the front-end designs based on what we heard from our pilot partners; and
designing access requirements and the roadmap for onboarding users.
Weeks 8-13 then focused on:
testing the designs with our group of pilot users and continuing to iterate to ensure we met their needs;
refining the data matching methodology;
developing the visualisations;
co-creating the user interface; and
onboarding of pilot organisations at the end of week 13.
Since the tool went live at the beginning of September 2023, we've been conducting intensive user testing with our group of pilot users. This has enabled us to continue to finetune the product.
We're also conducting a detailed information governance review upon reaching the end of this phase so we can ensure we have robust arrangements in place as we progress to the next phase of our project.
Reflections
As my first project at LOTI, I'm really proud of what we've collectively achieved so far. Upon reaching this milestone of finishing the pilot, I want to share a few of my reflections from the past 4 months on the benefits of starting with an MVP:
It forces you to come up with a really clearly-defined set of outcomes. At LOTI we start by asking "Which specific people do we want to be better off in which specific ways because we acted?"
It's a great way to showcase an idea and its potential. You can focus on solving a core set of problems whilst setting up the foundations for long-term scalability.
It encourages a collaborative and customer-centric approach. By taking users along with you on the journey, you gain valuable insights into their needs, preferences and pain points. This helps to quickly iterate on the product to meet user expectations and requirements.
You quickly figure out what works and what doesn't. You avoid overbuilding and spending time developing features that ultimately aren't wanted or needed.
We can make more informed decisions on the future direction of the product and progress the project with a greater degree of confidence.
So what's next?
Overall phase 1 of this pilot project was a real success. The project team completed the design, development and delivery of a MVP solution joining up key data sources and providing valuable new insights into rough sleeping journeys in just 13 weeks! Rough sleeping services are extremely complex so developing an operational system in such a short period of time is a huge cause for celebration. 
However, the project doesn't end here! We believe this tool has the potential to transform how rough sleeping is understood and addressed across London. That's why Phase 2 of the project will focus on the rollout of the SITRS to all London boroughs and an additional selection of service providers, to become a truly pan-London initiative. We are really excited to work with these organisations over the next few months to help get them onboarded to the tool.
Collectively we are really ambitious about what we can do next. From bringing in additional datasets that we know play a big part in the rough sleeping ecosystem and will enable users to have detailed end-to-end journeys of their rough sleeping population. To exploring data science opportunities that could help us predict long-term outcomes and make better decisions on interventions, or forecast upcoming demand and enable more forward thinking policy and funding decisions. Watch this space! Keep up to date with further developments on the rough sleeping insights project page.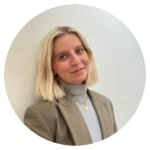 Anna Humpleby
24 October 2023 ·