It's time to boost the "I" of LOTI
---
LOTI is evolving.
That was the key message of an event we held at Bloomberg's London offices on 13 July – the fourth anniversary of the LOTI community.
Before I get into that, you might like to check out the 2-minute video below, which provides some key highlights of what we've been doing in our first four years.
Why change?
---
So why are we evolving, and what exactly will be different?
To explain the "why" part, let's briefly look at the Hierarchy of Public Sector Innovation (or the "Toblerone of Public Sector Innovation" as it was more memorably labelled by Greenwich's Kit Collingwood), shown in the diagram below.
The point it tries to make is that when we, as local government, try to tackle a major social challenge, whether it be homelessness or climate change, social care reform or the cost-of-living crisis, some changes are more fundamental than others (c.f. Maslow's Hierarchy of Needs).
Take social care reform as an example.
We'd argue that, unless our communities have people with the right relationships, unless our staff have the right skills and capabilities, unless we have the right ways of working, the right policies and incentives, the right assets and resources, no amount of technology and data is likely to make much difference.
If all we change is the tech and data part, it's the most superficial level of innovation. It risks being little more than digital sticking plasters.
By contrast, if we can get the base layers of the hierarchy right, there's almost no limit to what tech and data can make possible.
Perhaps this sounds obvious. Yet, it's not always reflected in the conversations we witness happening across the public sector. All too often, requests from council service or policy teams to their digital colleagues amount to "What technology would enable us to do what we do now more cheaply?" or "Which IT system would be slightly less bad than our current version?"
Clearly, these sorts of conversations are inadequate given the profound level of change needed to tackle the big issues listed above. If we want real change, we have to be willing to adapt what we do, our ways of working, our processes, our service models. In short, we need to innovate at every level of the Toblerone. Sorry – hierarchy!
I believe one of the reasons some councils fail to have these much bigger conversations is that we still use the term 'digital transformation'. Those of us working in that field find ourselves endlessly having to explain to colleagues – including organisational leaders – that the term doesn't just mean updating the tech we use. The fact we have to explain it so often shows it has thoroughly failed as a useful piece of terminology.
Instead, let's talk about what really matters to everyone working in local government: how we ensure councils are truly high-performing and responsive organisations. And how we can go about solving – not just patching up, but genuinely solving – the big issues that affect the residents we serve.
Boosting the "I" of LOTI
---
Enough of the problem statement – what are we going to do about it?
The first thing to make clear is that everything that LOTI is already known for concerning helping councils use technology and data will continue. This is vitally important work and there will be no let up in the support we provide to our digital, tech and data colleagues.
Our evolution is more about what we'll add.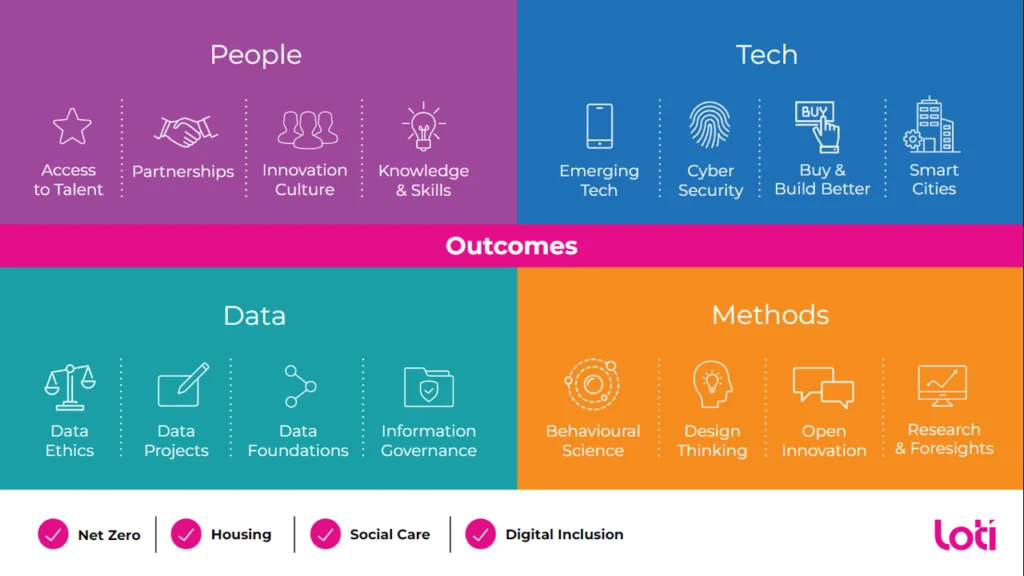 To turbocharge what can be done with tech and data – and to ensure we're addressing all layers of the hierarchy – we'll be offering capabilities in other, non-digital innovation methods.
Methods such as:
Behavioural Science – so we can help positively influence the thousands of daily decisions made by residents, businesses and other organisations to cumulatively amount to the big changes we need to see. (Just think of the changes to every individual's actions that will be required if we are to make a difference in an area like climate change).
Design Thinking – so we can bring fresh thinking to big problems, as well as a profound commitment to understanding the lived experience of Londoners.
Open Innovation – so we can be humble and brave enough to admit where we don't have all the answers within the sector, and instead open our doors to the best innovations that other individuals and organisations can provide.
And shifting from research, to Research and Foresight – not just looking at the nature of issues and solutions as they are today, but looking at how they might manifest in future.
To offer these capabilities, we'll be using a combination of upskilling the LOTI team, hiring new staff (LOTI's first Service Designer will start in September), seconding staff from the boroughs and forming partnerships with organisations that specialise in each of these areas.
What will we do with this expanded toolkit?
Two things.
First, build London's innovation capacity. We want to help ensure that boroughs can use all these competencies, tools and methods for themselves to be truly high-performing organisations. If the Covid experience taught us anything, it's that councils need to be on the front foot to deal with whatever challenge hits them next.
Second, offering our time and these methods to be an innovation partner to help the teams leading the charge on some of London's biggest issues, from social care reform to climate change, collaborate and innovate at scale to develop new solutions, using the full innovation stack.
Because above all else, at LOTI we believe that London deserves to have a truly 21st Century toolkit to tackle its greatest challenges.
That's the mission.
If you believe in it too, come join us on our journey!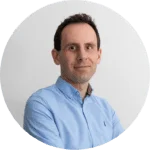 Eddie Copeland
26 July 2023 ·