LOTI Partnership with techUK
---
We are delighted to announce the launch of our strategic partnership with techUK, the trade association serving the digital technology sector in the UK. 
Every local government service and back office function is powered by technology at some level. Increasingly, boroughs are also looking to use smart city technologies in public spaces and buildings to help their areas thrive. It's therefore absolutely essential that they have access to be best possible tools and relationships with their suppliers. 
Yet we know that's often a challenge. Borough staff are so busy they find it hard to curate and determine which suppliers are worth talking to. Meanwhile, many innovative and smaller suppliers have amazing tools and services to offer, but can't identify who they can engage with in councils.
Over the past three years, LOTI has worked on several initiatives to help its members better understand the tools they have in common, improve their procurement process and engage suppliers effectively in areas like housing services and social care. One key lesson we've learned from this work is that boroughs and suppliers need to have conversations much earlier in the process. If councils wait until they're just about to procure a system, the opportunity for their thinking – and therefore their tender – to be informed by a solid understanding of the art of the possible is often gone, missing vital opportunities to innovate to create more value for their residents.
For these reasons, we look forward to working with techUK to bring LOTI members together with suppliers in early market engagement sessions to drill into the outcomes boroughs want to achieve, and understand what current tools and services can best enable them.
Together our key aims are to: 
Stimulate industry engagement and improve market engagement opportunities for SMEs

Build trust and foster positive relationships between industry and LOTI, and its London borough members by creating a common understanding of shared goals and priorities

Work together on the common aim of leveraging the power of digital, data and technology in the transformation of local public service outcomes

Share knowledge and encourage the exchange of ideas and best practice.
In keeping with LOTI's philosophy of trial and improvement, and working in the open, we'll try a few different approaches to see where we can create mutually beneficial experiences for members of both organisations. We'll share what we learn in the process.
In the meantime, follow us on Twitter and LinkedIn to stay informed of the latest developments in this exciting partnership!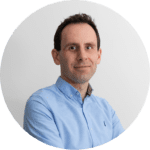 Eddie Copeland
29 November 2022 ·