LOTI Year 3 Annual Report
---
Over the past three years, LOTI has striven to demonstrate the power of collaboration. Together, our community has focused on sharing knowledge, building capacity, running projects and influencing change. In this article and accompanying video, we'd like to share highlights from the amazing work our community of 24 boroughs, the Greater London Authority (GLA) and London Councils has collectively achieved in pursuit of improving services and outcomes for Londoners.
What we focused on in Year 3
LOTI's third year concentrated on three themes – Developing Capabilities, Service Innovation and Smarter London – and nine areas of focus. Below, we'll explore each in turn.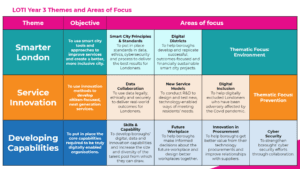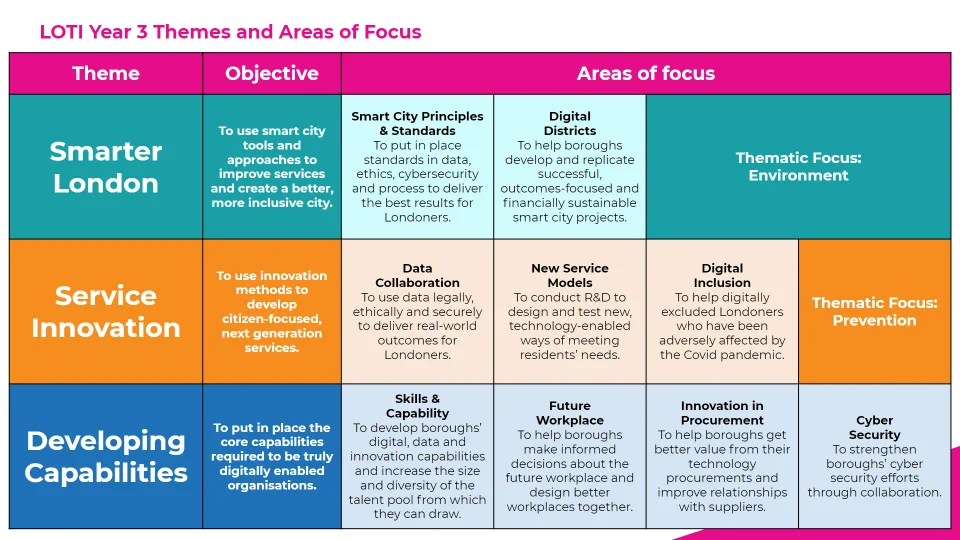 Skills & Capability
Without a truly diverse workforce with a broad range of specialist skills, boroughs will achieve little of their ambitions for digital and data innovation. Consequently, we've redoubled our efforts to develop boroughs' skills and capabilities and increase the size and diversity of the talent pool from which they can draw. 
We provided recruitment support. LOTI members can now advertise their digital, data and innovation roles through the LOTI jobs board, receive expert headhunting services from Jo Cumper, find more than 270 template job descriptions in our JD Library, and access salary benchmarking data from our partners at CHR Solutions. In March, we held our first careers day, helping to dispel the myths around working in local government data roles.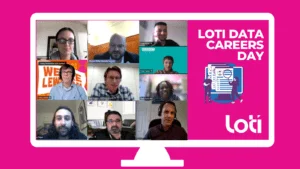 We created training and other personal development opportunities. During summer 2021, 18 people from across the LOTI community took part in a 12-week ONS-LOTI Data Science Bootcamp to learn advanced data skills. Then, in March 2022, we collaborated with Lauren Currie OBE to run a dedicated version of her highly regarded Upfront Confidence Course. 88 women from 22 boroughs took part in the sessions, which focused on helping participants feel more confident and assertive at work.
Third, in a project led by LOTI Fellow, Omid Shiraji and funded by Bloomberg Associates, we completed the first cut of a Digital, Data and Innovation Capability model, which aims to describe what good looks like in each of those fields. In Year 4, we'll be developing the model to help boroughs design and make the case for further investment in these vital capabilities.
Finally, we began producing a series of videos to explain key concepts in digital transformation as part of the LOTI Leadership Series. The first set of videos, recorded with Dave Briggs, cover topics including: "What do we mean by Digital?"; "What does leadership look like in the digital age?"; and "Understanding digital age operating models".
Future Workplace
Following the unprecedented levels of remote working that resulted from the COVID pandemic, boroughs have been reshaping their workplaces and practices to make the most of 'hybrid'. Many want to use the opportunity to accelerate their modernisation plans, reduce their office costs and recruit from a wider talent pool than just those living within commuting distance of their offices. LOTI has worked to inform their thinking by creating a suite of guides covering everything from creating the healthiest future workplace to running better hybrid meetings. On 16 June, we ran our first bus tour for digital transformation and HR and Organisational Development leads, visiting the offices of Camden Council, Zoom, Bloomberg and Microsoft to see how they are adapting their offices in innovative ways that might inspire local authority activity.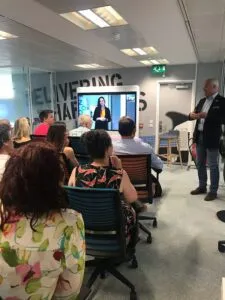 Cyber Security
All boroughs take cyber security extremely seriously. LOTI worked to build on their already impressive measures by conducting research on their current cyber provision, through building a close partnership with the National Cyber Security Centre and by exploring the potential for innovative, collaborative approaches to reinforce their work. Most recently, seven LOTI boroughs have launched a pilot to trial Attack Service Mapping – a process for identifying and rapidly resolving any emerging common vulnerabilities.
Data Collaboration
A core function of LOTI is to enable better data collaboration and sharing across the capital. This year, we've focused on three areas.
First, we continued to tackle barriers to data sharing. Between January and March 2022, we piloted having a pan-London Information Governance (IG) Lead to help boroughs create, review and sign off a backlog of 18 data sharing agreements that are vital to the effective delivery of London's public services. In just 3 months, our consultant IG lead, Sarah Laws (IG lead at Camden), cleared 15 of them! Having proven the effectiveness of that role, LOTI ended Year 3 with the recruitment of London's first full-time, pan-London IG Lead. This will not only ensure that existing public services can run smoothly but also enable boroughs to more confidently use data to innovate and improve them.
Of course, it's not enough merely to use data legally. Data projects must be done in a manner that's worthy of Londoners' trust. LOTI was pleased to be part of the advisory panel for Camden Council's pioneering work to develop a data ethics charter with local residents. We created a case study of this, as well as of Brent's pioneering Data Ethics Advisory Board approach, which brings internal and external scrutiny to the borough's data work. Our key priority is to ensure that data ethics isn't merely something organisations read about, but actively implement. With the support of organisations like the Centre for Data Ethics and Innovation, the Cabinet Office's Digital and Data Office, the Open Data Institute, the Ada Lovelace Institute and the Alan Turing Institute, as well as the LGA and partners in the LOTI community like Brent, Westminster and data practitioners and leaders from across our networks, we've focused on turning data ethics principles into practical, actionable steps.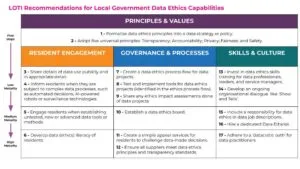 Finally, the best way to encourage greater data collaboration is to use data and show results. LOTI partnered with Bloomberg Philanthropies and Housing colleagues at London Councils to explore how better use of data can help predict and prevent street homelessness. Meanwhile, in an award-winning project involving colleagues from Barnet, Brent, Kensington and Chelsea, Southwark, Westminster and the GLA, we created a map that locates factors related to digital inclusion, helping organisations target their interventions. To bring the data alive, we created a story map showing how the insights can support specific demographics, such as the over 65s.
Innovation in Procurement & New Service Models
This year, we decided to combine our work on Innovation in Procurement with New Service Models, and concentrate our efforts on the technologies that power social care. As LOTI's previous work has highlighted, every public service relies on technology at some level. Yet boroughs often report being dissatisfied with the services and tools offered by some of their major suppliers.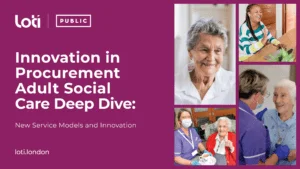 To help inform boroughs' thinking on alternative suppliers, LOTI was pleased to work with CC2i to create a database of social care technology innovators and an accompanying report outlining how these solutions are supporting the social care sector. Of course, simply swapping one piece of technology for a slightly better or more cost-effective system can only ever be a partial solution. The real way boroughs can engage with a broader range of innovative tech companies and deliver better outcomes for Londoners is if they shake up the service model itself. We therefore worked with PUBLIC to produce a report outlining how organisations around the world are developing radical new service models to meet care needs in different ways. Both pieces of research lay the groundwork for a major programme for LOTI in Year 4, in which we'll design and test new service models in adult social care.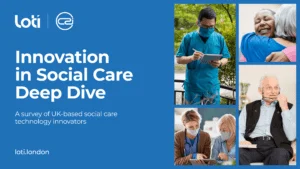 Digital Inclusion
Back in June 2021, with a £1.3million grant from the GLA, LOTI launched the Digital Inclusion Innovation Programme (DIIP). The aim of DIIP is to work towards fulfilling the London Recovery Board's mission for "Every Londoner to have access to good connectivity, basic digital skills and the device or support they need to be online by 2025."
To that end, LOTI conducted research to identify and analyse more than 100 existing digital inclusion initiatives already being offered by public, third and private sector organisations. We provided additional research reports on topics from accessing social tariffs to device upcycling.  
We ran two exemplar projects to understand and address the needs of specific groups. One focused on designing digitally inclusive services for people living with dementia and their carers. Working with colleagues in Newham, Lewisham, Westminster, Ealing and Hammersmith and Fulham, and in partnership with the Helix Centre, the project designed and tested a Digital Befriending Kit intended to reduce isolation and boost digital inclusion. During the pilot, the Digital Befriending Kit was used consistently and largely successfully by 81% of the participants with support from their carers. There is a strong desire among the cohort to continue the online activities beyond the pilot project.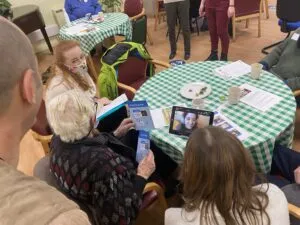 A second project examined how digital exclusion affects people living in Temporary Accommodation hostels. Our discovery with Camden, Enfield, Hackney, Hounslow, Kensington and Chelsea, Kingston, Redbridge, Richmond and Wandsworth, Waltham Forest and Westminster revealed heartbreaking stories of young children being excluded from educational opportunities; individuals with mental health needs being unable to access support; and others missing housing opportunities simply through lack of being able to check and respond to emails. In partnership with the GLA and London Councils, LOTI has mapped the state of wifi and device provision in London's hostels and is now working on a pilot to provide far greater levels of connectivity.
To support boroughs' incredible work, we looked at how digital solutions might help with leveraging social value from contracts and directing social value contributions to local digital inclusion provision. Our discovery work with Hammersmith and Fulham, Havering, West London Alliance, Waltham Forest, RBKC, Westminster and Barnet helped us understand what boroughs are doing in this space and what digital solutions exist that can enable better social value outcomes.
We produced three guides for practitioners considering how to provide devices to their digitally excluded residents. These resources provide guidance on upcycling retired devices, sourcing digital devices through device donations and crowdfunding, and lending and gifting digital devices. We also developed a Social Tariffs Toolkit to help frontline practitioners better understand broadband social tariffs so they can signpost residents to the cheaper tariffs available to them. Thank you to Brent, Greenwich, Lambeth, Lewisham, Southwark, Westminster and the West London Alliance for contributing to the development of these resources.
All of this work culminated in LOTI hosting a major digital inclusion conference in June 2022. At that event, we were delighted to announce our partnership with the Good Things Foundation, the UK's leading digital inclusion charity, to develop a digital inclusion service for London. The aim is to ensure all Londoners can access the device, connectivity and skills they need to get online.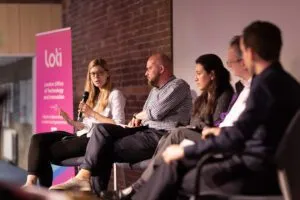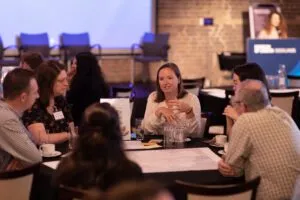 Smarter London
Many London boroughs are interested in exploring how smart city approaches can improve services and outcomes for their residents. Amazing work has gone on over the last year in Westminster and Greenwich, and the boroughs of Croydon, Kingston, Merton, Richmond and Sutton, which are working together on more than 40 use cases as part of the Innovate project. To help capture and share lessons between these boroughs, LOTI produced a Guide to Designing Smart City Projects. 
Our focus then shifted to helping boroughs use smart city approaches to tackle London's most existential challenge: climate change. On 16 and 23 May 2022, LOTI and the London Environment Directors' Network (LEDNet) – the group of borough environment leads – hosted a design sprint to bring environment colleagues together with experts in digital, data, smart cities and behavioural insights. The sprint developed creative solutions in four priority areas: retrofitting buildings to improve energy efficiency; switching more of London to renewable energy; reducing petrol and diesel journeys to tackle transport emissions; and helping London live within the resource limits of our finite world. It resulted in 11 ideas, which we're shortlisting to take forward in Year 4.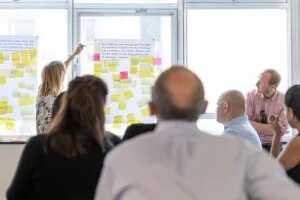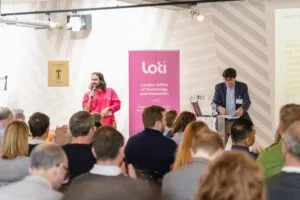 Where next?
Collaboration is always hard, but the progress outlined above shows the difference that can be made when organisations work together. This year, we've been delighted to welcome five new boroughs to the LOTI family – Merton, Redbridge, Richmond and Wandsworth, and Barking and Dagenham – a testament to London local government's growing appetite to collaborate. 
Much remains to be done. In our fourth year we'll be focusing heavily on helping boroughs address their digital skills gap; developing new service models in adult social care; and ensuring that the LOTI community has a seat at the table as London seeks to tackle huge, wicked problems from climate change to digital inclusion, and from the cost of living crisis to social care. For more details on our future plans, check out our Year 4 Strategy.
For now, as we celebrate our third birthday, our thanks go to everyone who has been involved in or supported this work. We look forward to working with you in the months and years ahead!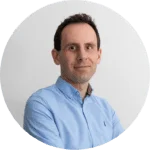 Eddie Copeland
14 July 2022 ·