Reflections from the IRMS Conference 2023: Insights on data usage and ethics
---
Sunny Manchester hosted the IRMS (Information & Records Management Society) annual conference last week and I wanted to share some takeaways and resources. 
LOTI Key Themes
I was pleased by how much of the conference content fits with LOTI's key themes and the many projects our London boroughs are running.
Net Zero

Digital Inclusion

Adult Social Care

Housing
What struck me most when thinking about the themes was how Digital Inclusion was vital for the other 3.
Eilidh McLaughlin, Head of the Digital Citizen Unit at Scottish Government, spoke movingly on the difference digital inclusion is making to people's lives in Scotland. I hadn't seen the Periodic Table of Internet Elements, published by the Good Things Foundation, and if you haven't either, I recommend that you take a look. 
I've picked out some of the elements that impact our themes:
Net Zero
Adult Social Care
Housing

Online activism

Petitions and protest

Navigation and maps

Social media

Art

Self expression

Community groups

Volunteering

Friends and family

Video calls

Assistive technologies

Art

Community groups

Social housing application

House hunting

Manage bills

Benefits application

Immigration services

Universal Credit journals

Debt advice
If you're not already part of the digital inclusion sphere, you can learn more about the Get Online London project on the LOTI website.  
Ethical use of data 
Emma Martins, the Data Protection Commissioner for the Bailiwick of Guernsey, delivered the conference's opening keynote. She spoke of her recognition, early in her career, of the origins of European data protection law, after hearing a speech from David Flaherty, a former Information and Privacy Commissioner for British Columbia. David said:
"European data protection laws include the hidden agenda of discouraging a recurrence of the Nazi and Gestapo efforts to control the population, and so seek to prevent the reappearance of an oppressive bureaucracy that might use existing data for nefarious purposes. This concern is such a vital foundation of current legislation that it is rarely expressed in formal discussions. This helps to explain the general European preference for strict licensing systems of data protection. Thus European legislators have reflected a real fear of 'Big Brother' based on common experience with the potential destructiveness of surveillance through record keeping. None wish to repeat the experiences endured during World War II."
You can read more of Emma's post on 'Data protection and the foundations of democracy'.  
A heavy subject for first thing on a Monday morning, but one that is relevant to more than data protection professionals. I'm thinking about it this week as I work on the Rough Sleeping Insights Project, where ambitions are to reduce homelessness and help make rough sleeping rare, brief and non-recurrent in London. While designed to benefit individuals overall, the project uses sensitive personal data of vulnerable individuals to create aggregated outputs on the homelessness journeys of individuals. 
Emma in her presentation spoke of 5 Tests that we should consider when creating and implementing data projects:
Legal test – is it lawful?

Stench test – does it stink, ethically?

Front page test – how would this look if reported? 

Mum/best friend test – what would they say about the project and how would you feel if it were their data?

Universality test – if the project became standard practice for all people in all times, would that be a good and just outcome?
Data Protection Impact Assessments and ethical design processes are two branches of the same tree when it comes to data usage; with true considerations of not just what we can do, but whether we should.
Resident Engagement
The Guernsey Office of the Data Protection Authority launched Project Bijou in May 2021. 
It's a social initiative that encourages everyone to share stories, knowledge and experiences related to ethical data use, in a way that benefits everyone. Its aim is to support and nurture positive cultural change around how people and organisations treat people's data. It seeks to engage people on a cultural level rather than simply on a legal/compliance one.
There is a wealth of content on the Project Bijou website on data usage, data ethics and resident engagement.  
With 5 themes, the content touches on things we've been talking about in LOTI All Member sessions, like behavioural change.
I'll end with a message from Project Bijou, on where we need to be in public sector data use: change behaviour, shift culture, reduce harm …one conversation at a time.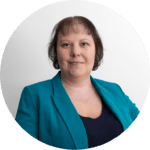 Victoria Blyth
24 May 2023 ·