Reflections from London Data Week: Data Innovation in London
---
LOTI was thrilled to kick off the first ever London Data Week on 3rd July 2023, with our event 'Data Innovation in London'. The event saw data leaders, practitioners and enthusiasts across the city come together to celebrate the breadth of data innovation happening across London. We also considered how we can make more effective use of data and technology to serve Londoners better and solve key city challenges.
Being a new member of the LOTI team, I was lucky enough to go along to the event as an 'attendee' and presented a lightning talk on my rough sleeping insights project. Anyway, I wanted to share my reflections and key takeaways from the day.
Why is London's data innovation unique?
Following an inspiring welcoming address from London's first Chief Digital Officer, Theo Blackwell MBE, on the city's vision for data, there was an interesting discussion among a diverse panel of experts who highlighted the 'golden opportunity ahead of us' as well as some of the many reasons why the data innovation in London is special and unique.
Those that really struck me were:
The strong history of using data for public benefit in London.
The amazing diversity in people across London.
The culture of collaboration and coming together to work on shared ambitions and solve 'wicked issues'.
The richness in borough's data – unlocking and using this data for value is a huge opportunity.
They also spoke about challenges such as:
The need for data life skills – we need to help local people and leaders understand and harness the value of data and the importance of investing in data and tech as means for powering public services.
The speed and curve of change is getting exponentially faster – how do we prepare people for what's coming in the future?
The importance of transparency – if there are biases, where did they come from? What can we do to combat them?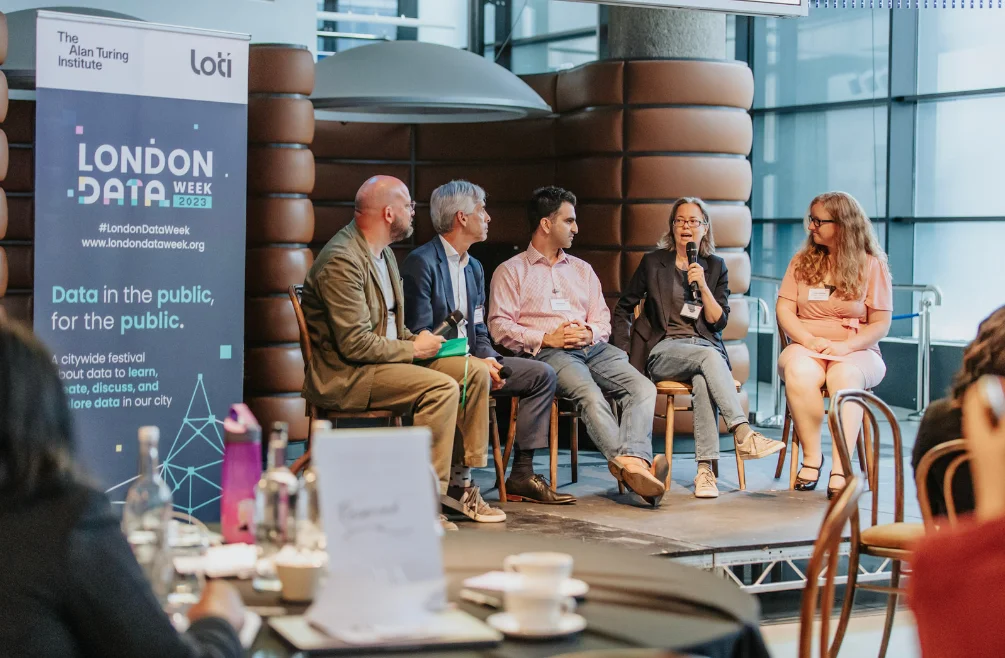 News from the future!
My favourite part of the day was the 'News from the future' activity. Together in small groups we decided on an outcome we'd like to see in 5 years time (which very nicely aligned with LOTI's outcomes-driven approach). We then translated this into a catchy news headline. My group decided on 'No one in London has to sleep rough' – something I have a personal investment in as lead for LOTI's Rough Sleeping Insights Project.
Other headlines included 'London on track to beat 2030 net zero target', 'Londoners breathe easier' and 'London on track to halve life expectancy gap'. It generated a real buzz and it was great to see the level of ambition in the room and motivation to tackle some of these key challenges faced not just by London, but globally.
Lightning Presentations
Following a last minute change to the schedule, I joined a panel alongside representatives from the GLA and The Alan Turing Institute, to deliver lightning presentations. My presentation covered LOTI's Rough Sleeping Insights Project working towards making rough sleeping in London rare, brief and non-recurrent. It was an excellent opportunity to promote the work we are doing in collaboration with the GLA, London Councils and Bloomberg Associates, and delivery partners Faculty and Beam, to join up London's currently siloed rough sleeping data. The end product will be a data platform which aims to improve understanding of the rough sleeping population in London and deliver powerful, actionable insights that can help improve support to, and outcomes for, this vulnerable group.
I really enjoyed listening to the other presentations which included a range of projects covering data innovation in infrastructure, planning, and transport. It was eye-opening to see the breadth of innovation work happening in London across different applications.
A framework for Participatory AI
Finally the Centre for Collective Intelligence Design talked us through how we can effectively develop and use participation in AI. Some of my key takeaways were the value that participation can add, including:
Improving the accuracy of a tool through better data
Increasing alignment between AI and human values
Increasing trust and uptake
We then had small group brainstorming sessions about how we could apply participatory methods into our own projects. Everyone in my group was able to immediately identify at least one opportunity in existing projects and the level of impact it could have, or even come up with new ideas. It demonstrated the value of this participatory approach and there was a great deal of excitement evident in the room to start to test out some of these ideas.
A final note…
I have to give huge credit to colleagues at LOTI and The Alan Turing Institute for putting this event together. It was amazing to see such a diverse group of attendees from across the data industry come together to celebrate data innovation in London. The positive energy in the room was contagious and it has made me incredibly excited to see ideas come to life and see just how far we've come in the next year, 5 years, 10 years!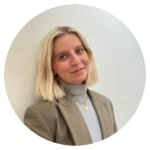 Anna Humpleby
26 July 2023 ·