Weeknote 14 of 2021
---
Our sole focus last week was to get as much of the groundwork for our Digital Inclusion Innovation Programme (DIIP) in place as possible.
Digital Inclusion Innovation Programme (1)

Understanding the baseline
---
In the blog we published last month launching DIIP, we set out how this programme would support London's wider Digital Access for All mission, which has a goal for "Every Londoner to have access to good connectivity, basic digital skills and the device or support they need to be online by 2025."
Our intention is to work with partners in the public, third and private sectors to use innovative methods to discover, design, develop and scale initiatives that support digitally excluded Londoners who have been left particularly vulnerable during the Covid pandemic. The programme is expected to start in June 2021 and last for two years.
The Programme aims to articulate what a "minimum access package" for every London resident is made up of i.e. device, data and skills needs. As we were set up by the boroughs, for the boroughs, we'll also be developing a means by which public servants / voluntary and charitable sector staff who work with digitally excluded Londoners can access quality information, resources, services and peer support on digital inclusion to best support their residents. And lastly, this programme seeks to provide an evidence base on the exact need in London, to improve and support the public and third sectors' ability to articulate this need to private sector organisations.

Learning from over a year in office now, we recognise that to assess where best LOTI can propose specific interventions, it's first vital to capture the 'As Is' of the current situation. To do so, we spent the better part of last week engaging with borough officers across all 33 boroughs to populate our crowdsourcing form. This open call invites boroughs and their voluntary sector partners to share details about initiatives, projects and programmes that they have undertaken, or are currently working on, to support digitally excluded Londoners.
So far, we've received submissions from 1/3 of London boroughs and we would like to get as clear a picture as possible before we kick-off with our first workshop next week.
Commissioning supplementary research
---
Last week we also drafted a research brief, which is available to read online. LOTI now wishes to commission a researcher to delve deeper into the information shared with us by borough officers and voluntary sector organisations to ensure we have sufficient detail on the nature, scale and context of each initiative to support us to interrogate the information shared with us by borough officers and voluntary sector organisations to ensure we have sufficient detail on the nature, scale and context of each initiative
In consultation with the LOTI team, the researcher will be expected to design an interview plan and conduct at least 30 video or telephone interviews with local government officers and colleagues from the voluntary sector to collect more details about their digital inclusion programmes. Our expected balance is for these to be allocated to 20 London boroughs and up to 10 voluntary sector partners.
We cannot do this alone
---
We also spent the better part of the week sending out invites to the first workshop for DIIP. This workshop will be for boroughs and their voluntary and charitable sector partners to share details about digital inclusion initiatives and explore ideas for future projects.
To avoid repeating what boroughs have shared with us previously, or duplicating projects already underway in boroughs, in this workshop we'll be:
Confirming our approach resonates with the needs of the boroughs;
Playing back the information we've received so far of the different activities underway in London;
Running exercises to better understand the challenges and barriers boroughs and their third sector partners have faced and what has been done to overcome them.
The intention is to leave the workshop better informed of what other projects would be desirable and add value to what boroughs are already doing, and how LOTI can best support boroughs to collaborate to bridge the digital divide in the capital.
In case you missed it (like we did)
---
LOTI featured in the Organisation for Economic Co-operation and Development (OECD) and Observatory of Public Sector Innovation (OPSI) 'Embracing Innovation in Government' Global Trends 2020 Report. LOTI is cited on page 35 as an example of Cross-government collaborative infrastructure.
Coming up this week
---
This week, LOTI will be:
Resuming our fortnightly show & tell series to share an update on our digital Covid Innovation Fund project. You can register to attend here.
Meeting with the Croydon and Leeds Digital team to see how best we can support the project in contributing London public sector's digital inclusion case studies to the Digital Inclusion Toolkit.
Reviewing the Digital Exclusion Map that has been developed by colleagues from Greater London Authority using open data sets for our data Covid Innovation Fund project.
For the daily download on all things LOTI, be sure to follow us on Twitter.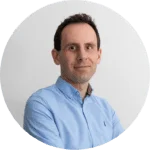 Eddie Copeland
12 April 2021 ·