Weeknote 20 of 2022
---
Below is the latest news from the LOTI community, based on the activities we worked on during the week commencing 20 June.
Discussing the digital divide in a panel session at Digital Leaders Week 
---
In preparation for LOTI's own digital inclusion event later in the week, on Tuesday, Eddie took part in a panel session at the Digital Leaders conference to discuss how governments and grassroots organisations can help provide devices and connectivity for those in digital poverty. The panel featured Chris Ashworth from Nominet, Dr Emma Stone from Good Things Foundation, Claudia Baldacchino from People Know How, and Ian McArdle from 100%Digital Leeds.
The discussion confirmed many of LOTI's conclusions on how digital exclusion needs to be tackled, including the vital role of strong collaboration between public, third and private sectors; the need for more investment; and stronger levels of support from the central government.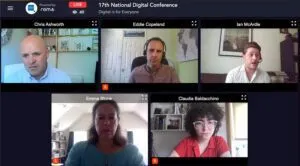 Co-hosting our first-ever Digital Inclusion Conference
---
On Thursday, we were delighted to co-host our first ever Digital Inclusion Conference with the Greater London Authority (GLA). It was really inspiring to meet so many practitioners passionate about this issue and willing to work together to tackle the digital divide in our city.
During the day we heard from Theo Blackwell, London's Chief Digital Officer, and Mayor Philip Glanville, London Council's Digital Champion. Abi Wood, CEO of Age UK, Tim Stranack, Founder of Community Fibre, and Opama Khan, Croydon's Head of Digital Services, Access & Reach, gave their thoughts on how different sectors can work together to support digital inclusion. We were also joined by representatives from Merton Libraries, Southwark, RBKC, GLA and the Helix Centre who shared the great work they've been doing to help Londoners get online. We ended the event by announcing our plans for the Digital Inclusion Service for London, a new pilot to reduce the number of Londoners who are digitally excluded. Visit our blog about the service for more information.
Celebrating with Hackney Council for winning the Digital Leaders Award
---
Huge congratulations to the Hackney team for winning the Digital Leaders 100 Award for Digital Public Service Innovation of the Year for their Better Conversations Tool! LOTI is proud to have worked with a brilliant team and to have funded this project as part of our COVID Innovation Fund, early in 2021.
The award recognises the effectiveness of the Better Conversations Tool as a holistic approach for identifying and supporting vulnerable residents from their first contact with the council. The core components of the project included the development of a referral/ signposting technology platform which alongside a dedicated single point of contact (Link Worker) ensured that residents who needed support were referred to/signposted to relevant services in their local area.
The project produced a comprehensive toolkit that outlines key steps and a range of resources that other London boroughs, may need in order to apply the model to your own context. More details are on the LOTI website.
Meeting with the Tokyo Metropolitan Government delegation
---
On Friday, we were pleased to connect with Keiichi Yoshimura, Deputy Director General, Bureau of Digital Services, and his team from the Tokyo Metropolitan Government. With presentations from Theo Blackwell, London's Chief Digital Officer, Andrew Parsons, IoT Programme Manager from Kingston and Sutton, Rikesh Shah, Head of Open Innovation from Transport for London (TfL) and the LOTI team, we discussed London as a smart city, an overview of LOTI, borough examples of smart city initiatives and TfL's approach to transport innovation.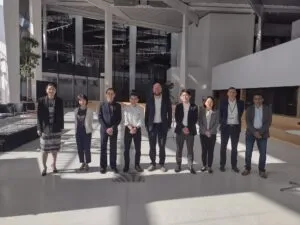 Coming up this week
---
This week, the team will be:
Hosting the final show and tell for Supporting Dementia Care pilot with Helix centre, for all the details visit our events page.
Visiting Apple HQ for a tour with borough members.
Planning upcoming events and refining our Year 4 strategy.
For all the latest news from LOTI, follow us on Twitter and LinkedIn.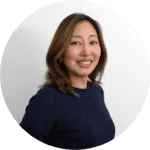 Polly Kwok
28 June 2022 ·