LOTI: Weeknote 52
---
Covid-19 Recovery
---
As we shared in our last weeknote, we are supporting a number of our member boroughs' applications for funding to MHCLG's Local Digital C-19 Challenge. Most of which were exploring the role that data could play in helping boroughs to make more informed and intelligent decisions about their service provision in recovery. With that in mind, it was important for us to share these ideas with our network of Data Analysts from local authorities to get their views on it.
At our last Data Analysts network meet-up, we heard from Colin Forber (Research Officer for London Borough of Newham), who shared their intention to build on the work done to identify and remedy the data gaps on vulnerable children and families that have no recourse to public funds (NRPF), children attending school out of borough, and families from other boroughs in temporary accommodation in Newham. Supported by Brent, Tower Hamlets, Ealing and the Greater London Authority (GLA), this project seeks to enable London boroughs to find and share relevant data sets on these groups of vulnerable people who may be affected by Covid-19 across borough boundaries.
We also heard from Sudip Trivedi (Acting Chief Information Officer and the Head of Data and Analytics for London Borough of Camden). He shared their intention to enable a federated response across public and third sectors to quickly and effectively support residents whose needs have changed during Covid-19. This project goes even further in breaking down borough boundaries as it is supported by Central Bedfordshire and the GLA and builds on our work in year one around information governance.
We're pleased to confirm that two of the projects we supported have been successful in securing MHCLG's Covid-19 Challenge funding, which was announced in their virtual celebration today. Of the 125 applications they received from close to 100 councils, LOTI is pleased to confirm that the Camden project Sudip presented at the meet-up was successful, as well as Camden and Middlesbrough Council's project to develop practical approaches and tools for digital place-based engagement. The full list of successful projects is now available online.
In addition to our support of these projects, we agreed with our members at our last All-Member meeting to continue our work on nurturing collaboration and co-design in response to Covid-19. Our mission is to help our member boroughs to adapt to genuinely digital ways of working and convene diverse voices to create innovative solutions to tackling vulnerability and promoting digital and financial inclusion.
GLA has convened the London Recovery Board as a vehicle for Pan-London collaboration during recovery. They've agreed on a 'Mission-based' approach to creating solutions to recovery from the COVID-19 Pandemic which sets outs clear stages for embarking on a recovery process. With our borough leads head-down in preparation for interviews to progress their bids for MHCLG funding, we turned our attention to GLA's work in this area. This mission-based approach relies heavily on cross-sectoral engagement to develop bottom-up solutions and innovative ways of thinking about a problem. This aligns with LOTI's way of working and we'll continue meeting with GLA colleagues to develop this work. We'll keep you all updated on the progress in future weeknotes.
Internet of Things (IoT)
---
Following our successful sprint accelerator IoTWeek dedicated to exploring how London boroughs can use smart street infrastructure for the benefit of all Londoners, we spent last week reviewing the latest draft of our IoT Framework and our lead boroughs' strategies to consider next steps. We've been working with South London Partnership (SLP) to develop their Innovate project, which secured £4 million funding to develop a multi-purpose 'Internet of Things' platform to help people live better, healthier lives and to generate economic growth.
We've been able to identify some gaps in boroughs' capacity and capability to manage the delivery of IoT and will be exploring the need for boroughs to invest in new roles that enrich teams with a more diverse skillset. Some of the key components identified so far include design, data, operations, and data engineering. We'll continue working closely with SLP to explore how boroughs might make a business case for the development of these teams.
City Tools platform development
---
Our intention with the City Tools project was to release the latest version of our technical solution by our first year anniversary and begin onboarding, with a public launch scheduled for London Tech Week.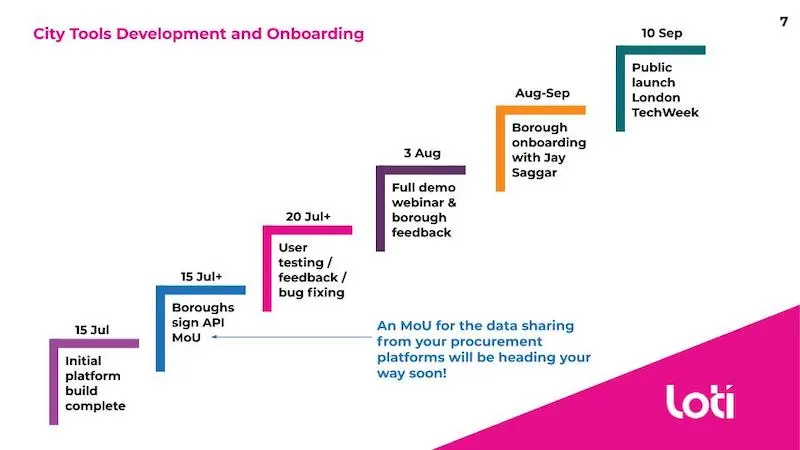 Last week, we met with Nitrous (our platform developers) to review the final stages of development, ready for user testing with members. We reviewed the platform's functionality, roadmap for new features, and set a potential date for convening the first group of testers for a live demo.
If you would like to be involved with this work, please get in touch with Genta Hajri (Programme Manager, LOTI) or Jay Saggar (Data Projects Manager).
This Week
---
This week, the LOTI Central Team will be:
Reviewing their first year in office and planning for year two.
Finalising the onboarding plan for our borough leads to start testing the newly developed Thirty3 (formerly City Tools) platform. To find out more about this project, please visit the City Tools project page.
Finalising the lead organisation for our innovation in procurement project.
For the daily download on all things LOTI, be sure to follow us on Twitter.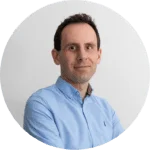 Eddie Copeland
27 July 2020 ·