What can London learn from South Korea's smart cities?
---
In March, I traveled to Seoul, South Korea to learn about the South Korean approach to 'smart cities' and to share London's perspective and progress in this area. The trip was arranged by the British Embassy in Seoul and our delegation included representatives from Transport for London (TfL), the Open Data Institute (ODI), and the private sector.  
We attended a series of workshops and seminars with our counterparts from across Korean national and local government including the Korea Agency for Infrastructure Technology Advancement (KAIA), the National Spatial Data Infrastructure office, Korea Express Way Corporation and the Sejong City Government.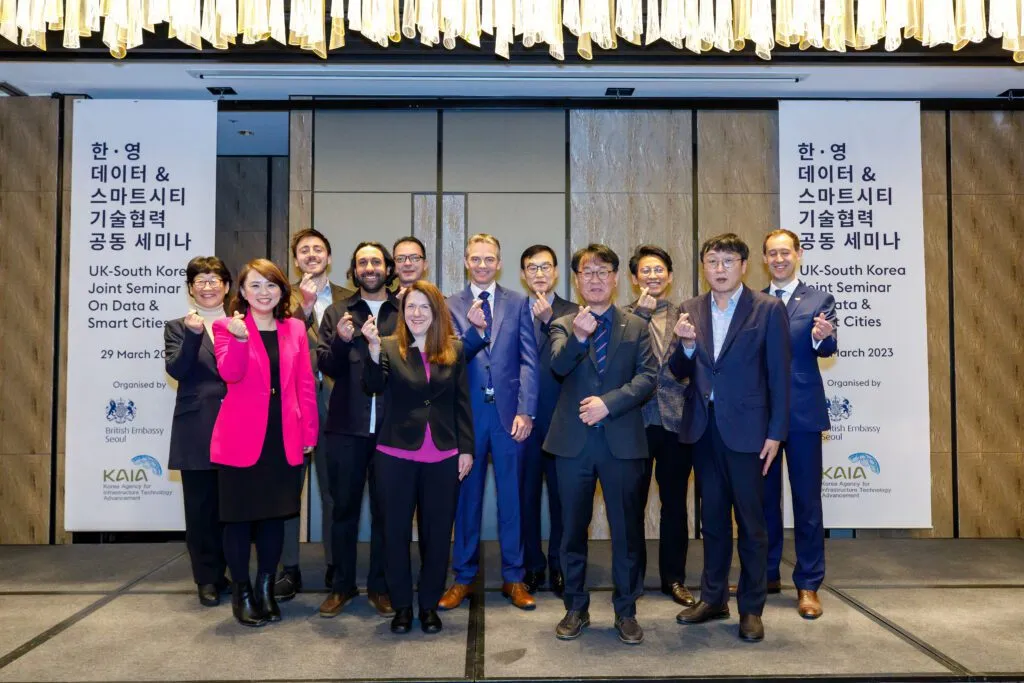 Technology as a national project
When you arrive in South Korea, it's hard not to notice the pervasiveness of technology. As a country that has industrialised relative recently to the UK, there is a sense of modernity in the streetscape, new buildings, metro systems and street furniture all embedded with technology. This is matched by an appetite for technology from its citizens with around 95% of Koreans using a smartphone. There are even street crossing where pedestrian crossing lights are embedded in the ground so those glued to their phones don't need to look up. It was therefore not surprising for our delegation to hear how deeply technology and data are embedded in central and local government strategy. 
South Korea has had a national smart city strategy since 2009, which is now in its third iteration. 'National Smart City Pilots' are taking place in smaller cities such as the new city of Sejong (pop. ~350,000), where a growing number of national government ministries are now based. Sejong is steaming ahead with infrastructure-heavy projects such as  'Ubiquitous' smart CCTV, autonomous vehicle trials and drone mobility pilots.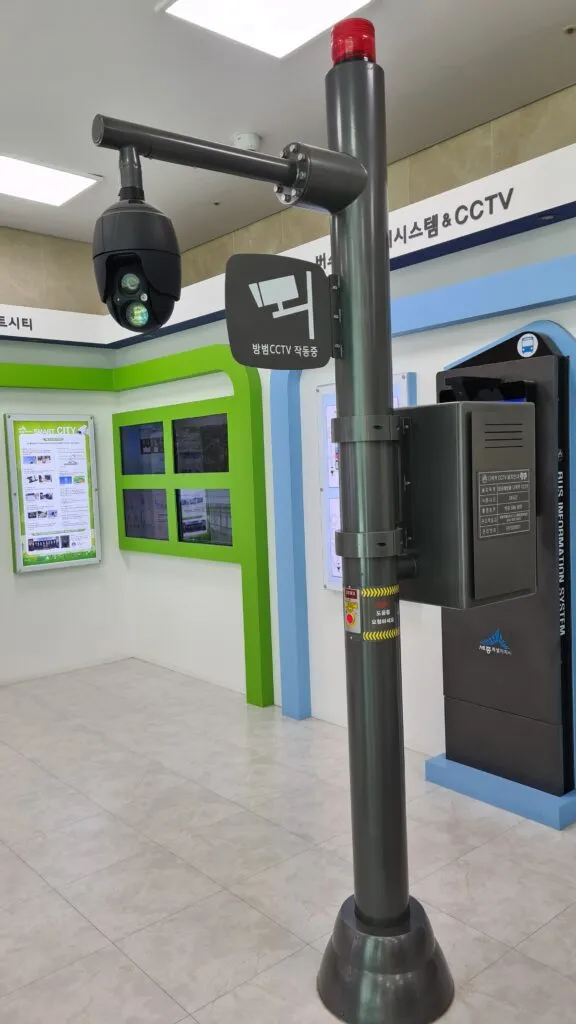 There is an ambition in Sejong to create a full digital twin for the city combining all of the public and many private city functions into one large data model. Across central and local government the term '4th Industrial Revolution' is used frequently to emphasise the importance of data and connected data systems as the driver of Korea's modern economy and the roadmap to the 'smart city' as the inevitable future of urban spaces is very much set. This stands in contrast to how LOTI and others in London are describing the city's approach to data and technology as part of the public realm and government. 
Is London a Smart City?
In the context of the smart city initiatives being designed and deployed in South Korea, the short answer is no. The longer answer is that London is not attempting to be 'a smart city' but rather a city that uses data intelligently. In the LOTI Guide to Designing Smart City Projects, we set out why we see 'smart cities' as a method (alongside many others) for delivering outcomes for residents and the city itself. This outcomes-led approach focuses on specific use cases, starting with the desired change we want to make in the world, then exploring what problems stand in the way, before establishing how data and technology might form part of the solution.  For example, the flood prevention systems operated by the South London Partnerships IOT Innovate programme, uses sensors and data analysis to predict when gullies and culverts need to be cleared so that highways teams can work proactively to stop flooding. The intention in London is to build up a library of place-relevant case studies with business cases and delivery expertise which can then be deployed at scale across the city. This contrasts with much of the South Korean approach which is committed to building the technology and data infrastructure upfront and establishing use cases later.
Lessons for London
South Korea's relative maturity in the design and deployment of technology and data in city management might appear to come from this tech-first strategy. However, the key lesson I took from the presentations shared and conversations had was that other factors are at play that have helped to move forward a more integrated use of data for city management. These include:
Strategic ambition:

Korean central government has a clear ambition to digitalise its infrastructure and to use data as part of strategic and operational functions of government. This is backed up with resourcing in central and local delivery capacity. This includes supporting the building of expertise in local government and providing funding both directly and through challenges and competitions. 

Providing data capability to local government:

The central government has developed a data integration platform for use by local government. So far this has been taken up by 113 local governments. This has accelerated data maturity across the country. In London, we are unlikely to want to develop one data platform for all London boroughs to use for local operational work, but we should recognise that providing technical capability is critical for achieving some of the key outcomes for London such as tackling air pollution which require all London boroughs' aggregate data together.

Developing strong capabilities to manage private sector partners:

Much Korean innovation has involved heavy state direction and support for the private sector. The ascent of Hyundai is a good example of the success of this strategy. In the modern era, South Korean central and local governments are establishing new forms of partnerships with the private sector. They are doing so by putting in place very strong internal expertise and capability to manage these relationships and contracts. In London and the UK more generally we need to grow this capability. In order to get the most from our partnership work we need to do the 'government bit' really well. This means not outsourcing all technical expertise to partners.  We need to be better buyers and better clients so that whether we decide to buy in a system or build ourselves we achieve our intended outcomes. 
Our focus on ethics is right 
We were invited to see the smart city control room in Sejong City. This impressive room housed a video wall with many data sources, mostly high-definition CCTV feeds and a team of officers monitoring and responding to alerts. The most sophisticated and also concerning feature they demonstrated was the ability to use AI to track the movements of an individual captured on CCTV. The system was able to provide an output in seconds. When asked about the use cases for this technology, the team explained that it had been used to find lost children and to prevent violent crime. These use cases seem reasonable but a system like this would not be accepted in the UK. From an outsider's perspective, Koreans appear to have a higher level of trust in government and police which makes the use of this technology viable. However, there is also less of a culture of consultation and engagement when it comes to decisions around the use of technology and data in public spaces. The mayor of Sejong has a mandate around crime but not one specifically on the use of AI in CCTV systems. In London, the work being carried out by boroughs to engage with residents is pioneering on the world stage and will enable us to take forward our ambitions for intelligent use of data in the city in the knowledge that we are meeting citizens' expectations.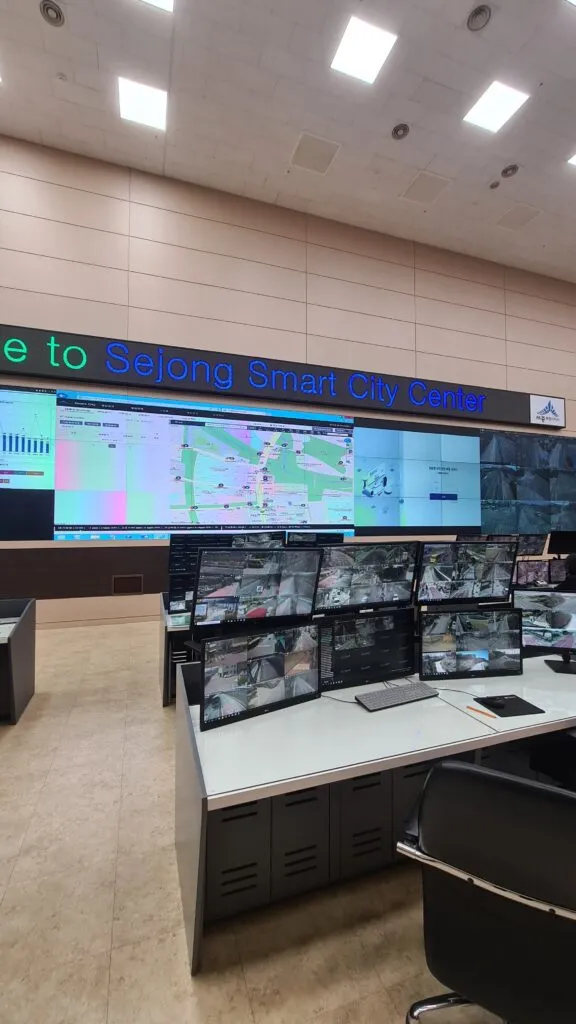 Conclusions
South Korea is a country where micro innovations and technology are visible everywhere. You see it in the innovative packaging on gimbap (pictured above) available at the 24-hour convenience stores, which keep the rice and seaweed separate until you're ready to eat, or the wireless phone chargers embedded in almost everything. In South Korea, design and innovation are expected and often present in delightful ways. Perhaps it's not surprising that a country that has a relatively short industrial history is developing rapidly using the latest available technologies, but what struck me was how far behind we are likely to fall given our current pace of innovation in the UK. Leaving Seoul via Incheon airport I am approached by a robot that offers to carry my bag, I can't help but contrast this with my experience of flying out of Heathrow. While I didn't need a robot to carry my bag this time, I'm inspired by the ambition it takes to have the data and technical capability to make this service available. It's this scale of ambition that we need to have in London if we want to harness the potential of data and technology to meet the big challenges facing London.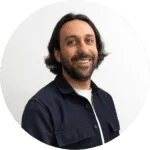 Jay Saggar
26 April 2023 ·