What digital inclusion activities are currently underway in London?
---
The London Office of Technology and Innovation (LOTI) invites organisations to share details about initiatives, projects and programmes of work they have undertaken, or are currently undertaking, to support digitally excluded Londoners.
LOTI and the Digital Inclusion Innovation Programme
---
LOTI was established to help its members (19 London boroughs, the GLA and London Councils) collaborate on projects that bring the best of digital, data and innovation to improve public services and outcomes for Londoners. Explore this site to learn more about our work.
We're now supporting London's Digital Access for All mission, which has a goal for "Every Londoner to have access to good connectivity, basic digital skills and the device or support they need to be online by 2025."
As part of this mission, the GLA and LOTI are launching The Digital Inclusion Innovation Programme (DIIP). The intention of this programme is to work with partners in the public, third and private sectors to discover, design, develop and scale initiatives that support digitally excluded Londoners who have been left particularly vulnerable during the Covid pandemic. The programme is expected to start in June 2021 and last for two years.
The Programme aims to achieve the following outcomes:
For residents: A "minimum access package" that provides a menu of options to meet individuals' essential device, data and skills needs will be available to all digitally excluded Londoners.
For public servants / VCS staff: Practitioners who work with digitally excluded Londoners will be easily able to access quality information, resources, services and peer support on digital inclusion to aid their users. The evidence base on what works – and the range of mature interventions that can be scaled – will be more extensive.
For corporates: The evidence base on the exact need in London will be more easily accessible and understood. There will be greater awareness about the impact of moving to online-only channels on digitally excluded Londoners.
How you can help
---
A vast amount of amazing work has already been done by boroughs and VCS organisations to support digitally excluded Londoners. We want to ensure that our work builds on and complements those initiatives, and helps to address remaining gaps.
We'd therefore like to start by gathering details of what digital inclusion work is already completed and available, and what projects are happening now.
We invite you to use this form – also embedded below – to share brief details of your organisation's digital inclusion work.
This information, except for contact details, will be shared openly and help inform upcoming workshops in which we'll seek to design and develop digital inclusion initiatives with you and our partner organisations.
Many thanks in advance for your help!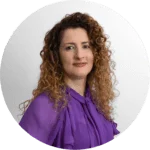 Genta Hajri
26 March 2021 ·