Community Insights Projects – User Guide
---
What is it?
This User Guide sets out how to create and run a Community Insights Project. Community Insights Projects bring together Voluntary and Charitable Sector (VCS) staff and council data experts to explore how different types of quantitative and qualitative data can be used to deliver better support to residents during the pandemic and beyond. Combining their strengths, skills and capacity to address shared 'blindspot' issues, planning, analysing and responding as one.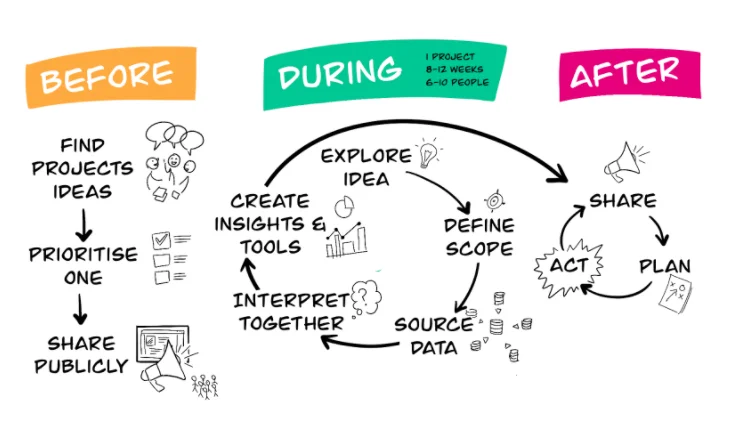 Why have we created it?
---
During the COVID-19 crisis councils and Voluntary and Community Sector (VCS) organisations have collaborated to provide vital support services to those in need. This work has demonstrated the value of these partnerships but also highlighted some of the barriers to more effective working.
A partnership of London Borough of Camden and Central Bedfordshire Council alongside LOTI and the GLA successfully won funding from the Ministry of Housing and Local Government's (MHCLG) COVID-19 Challenge to take forward a project to run discovery research to:
Identify barriers and opportunities to data exchange between VCS and councils
Co-design a solution based on the research findings which could be prototyped and tested during the ongoing pandemic response and shared openly with the wider sector
The User Guide is the product of this process and sits alongside a Data Exchange with VCS report that details the research process and findings. The research was facilitated and delivered by FutureGov.  View the project page
Who should use it?
---
The Guide is designed for Council officers and VCS staff that want to develop a project space and process for better sharing quantitative and qualitative data to meet the needs of residents and communities.
The documents are working drafts and will be iterated as Camden and Central Bedfordshire Council take forward Community Insights Projects. LOTI welcomes feedback from any council or VCS organisation. Feel free to add comments to the documents or contact: jay.saggar@loti.london.
Resources
---
Community Insights Projects – User Guide (Google doc) (PDF)