London Data Ethics Service
---
The London Data Ethics Service has been established by LOTI as part of our aim to help boroughs identify and navigate the ethical issues within their current data projects, and improve their capability to manage these issues themselves in the future.
These capacities are outlined in our Recommendations for Data Ethics Capabilities in Local Government.
If you are interested in the London Data Ethics Service supporting your organisation, please email LOTI Data Ethicist, Sam Nutt, at sam.nutt@loti.london.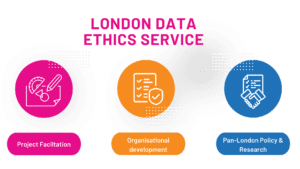 There are three pillars to the London Data Ethics Service: project facilitation, organisational development, and pan-London policy and research.
Project Facilitation

LOTI has in-house experts in facilitating conversations around the ethical aspects of data projects. LOTI can work with boroughs to facilitate a half-day workshop, make specific and relevant recommendations, and share lessons with the London local government community.

Organisational Development

Following LOTI's Recommendations on Data Ethics Capabilities, we are supporting boroughs to implement them and develop their own organisational capabilities.

Pan-London Policy and Research

To ensure a unified data ethics approach across London, LOTI will work with partner organisations to develop resources and future recommendations where necessary.                                                                       
As part of LOTI's commitment to work in the open, we will share our lessons and advice through blogs, webinars and future resources.
LOTI Members can access LOTI support on data ethics by reaching out to LOTI Data Ethicist, Sam Nutt (sam.nutt@loti.london) and Programme Manager: Data, Smart Cities and Cyber Security, Jay Saggar (jay.saggar@loti.london).