Supporting Dementia Care: Developing Prototypes
---
Introduction
---
As part of the Digital Inclusion Innovation Programme, LOTI is looking to co-design and test new digital methods to better support people living with dementia. Led by the Helix Team from Imperial College London, we'll be working with boroughs, dementia support organisations and other partners to design these new methods and approaches.
What we've done so far
---
We've held a discovery workshop and a number of conversations with boroughs wishing to develop and test these approaches. Based on these discussions, we've developed two initial prototypes, which we'd like to further develop and test with dementia support organisations. We'll be sharing more details on the initial prototypes in a 'Show and Tell' session on 10 November at 10:30 am. You can sign up to attend here.
In this section, Cat Kilkenny and Matthew Harrison from the Helix Team provide an overview of the prototypes.
Supporting Dementia Care – choosing a focus
---
As we emerged from COVID-19 lockdown, carers and people with dementia told us two things: they wanted to keep the best of what we learned about dementia and technology during the pandemic and they wanted us to use this knowledge to help socially isolated carers and people with dementia access activities and support that they find meaningful.
Based on the insights shared by Local Authority and Voluntary and Community Sector (VCS) representatives at our first co-design workshops in October, LOTI and the Helix Centre presented three different approaches as examples of what it might look like to make this goal a reality: Connected Devices, Tailored Technologies and Hybrid Communities.
Presenting three concepts
Dementia Project Blog Image

Connected Devices is based around increasing the uptake of devices and online activities through long term flexible device provision and device libraries. It focuses on finding a device that works for the individual; one that suits their personal motivations, skills and abilities, rather than expecting a one-size-fits-all-approach to device provision to work. As carers and people with dementia find their skills and confidence change, they would be able to try different devices to suit their evolving needs and preferences.
Tailored Technologies focuses on developing a person-centred 'pathway' for getting people with dementia and their carers connected. We will create a protocol for reviewing and refining a device and its applications to suit the individual's digital skills, interests and confidence. In participating boroughs, there will be a remotely managed introduction of applications and services through a tablet computer. The tablet can be fitted with a multi-provider data SIM for those without internet in the home. Remotely managed devices allow for higher levels of customisation and support to help people get to know them, and build confidence and skills.
Hybrid Communities concentrates on enabling people with dementia and carers to take part in a hybrid (online and offline) group activity that is meaningful to them, like group singing or exercise. The value of group activity is well understood and as community organisations return to in-person activities, it is valuable to maintain the engagement of people who cannot, or do not wish to participate in person. This concept endeavors to create rewarding digital engagement around an established in person group activity.
Choosing a focus
We sought feedback on these three ideas from participating boroughs. The feedback so far has leaned towards a focus on a combination of Tailored Technologies and Hybrid Communities, though we keep an open mind as we head towards the next phase of the project that brings us into closer collaboration with community organisations and people living with dementia.
The feedback was that Tailored Technologies (managed devices) with remote support would provide a more flexible and practical approach to personalisation than attempting to tackle the huge variety of different hardware options available and the data governance and practical logistics of setting up a hardware library as described in Connected Devices.
Meanwhile, Hybrid Communities would help create a compelling reason for individuals to adopt and engage with technology. In this way, we will tackle together the means (access to technology) and the ends (reason for using technology) in tandem.
What happens next?
---
We are arranging co-design sessions with community organisations to develop these ideas further. If there are stakeholders in your organisation who you think should be involved, please get in touch with Cat Kilkenny at cat@helixcentre.com.
1. Register your interest to run a pilot in your borough(s), in collaboration with LOTI and the Helix Centre. Please register your interest in getting involved by contacting sophie.nelson@loti.london.
2. Conversations with VCS dementia support organisations will be held over the first few weeks of November. If there are groups that work directly with people with dementia and carers in your borough that you think we should be getting involved in, please send an introduction email to Cat Kilkenny at cat@helixcentre.com.
For updates on this project please check out this page.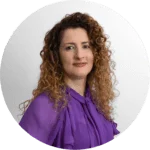 Genta Hajri
3 November 2021 ·