Weeknote 25 of 2021
---
Innovation in Procurement
---
Last week we held our latest Innovation in Procurement Forum. We were joined by the team from PUBLIC, who shared insights from the work they'd recently concluded in Hounslow.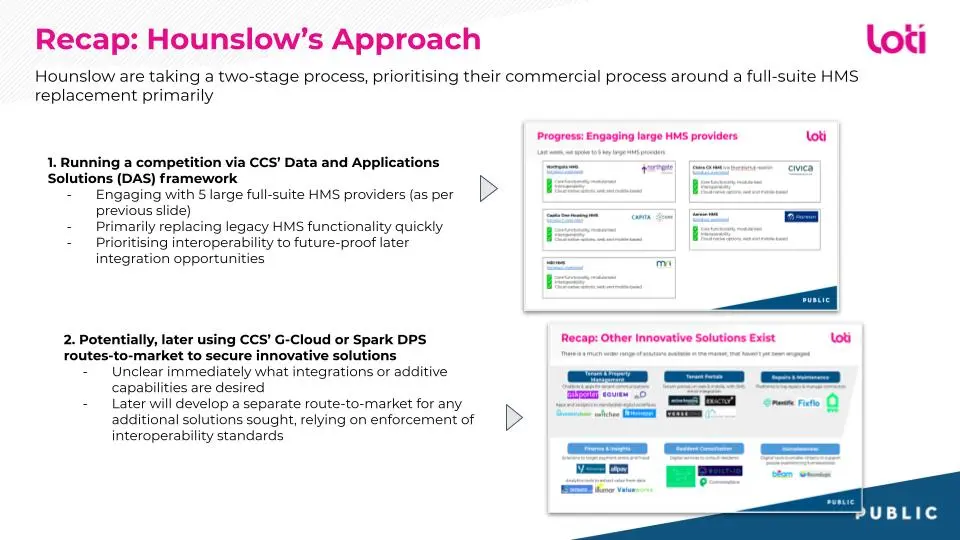 This project sought to support Hounslow with the procurement of their Housing Management systems (HMS), and the team from PUBLIC shared a number of reusable templates to guide other boroughs' thinking of doing similar in future.
The reuseable templates include:
An outcomes-led tender specification: the specification outlines the key outcomes boroughs wish to achieve in for their capabilities in Housing Services, including: Homelessness and Housing Needs, Tenancy and Housing Management, Leaseholders and Right to Buy, and Asset Management and Repairs. Additional non-functional requirements, such as the need for integration, payments, etc. are also included.
Tender Evaluation Guidance: this was based on the Hounslow example where the quality scores are broken down for each of the Housing Service capabilities.
Route to Market Guidance: this outlines a set of criteria boroughs may wish to consider when deciding what routes to market to pursue.
These templates are now available to members to support their approach in future. Our work on Innovation in Procurement is ongoing and LOTI will be thinking about how we can best use these and other templates to support boroughs' desire to get better value from the technologies they use. We will share more on this in the next few months.
Sharing lessons learned: Covid Innovation Fund 
---
Last week, we hosted a final show and tell for colleagues from Hackney and Newham to share details and reflections about the LOTI Covid Innovation Fund digital project to develop a preventative approach for supporting vulnerable residents. Details about this project can be accessed here.
The full recording is available to watch online, and the presentation is available to access here.
For our other LOTI Covid Innovation funded project to map digital exclusion in London, we met with colleagues from Manchester who have developed a Digital Exclusion risk index with a very similar outcome in mind. It was great to meet with the team responsible for developing that resource to share notes on lessons learned in each city, how we are defining digital exclusion, and what comes next for each project.
Great to see cities across the UK meeting to share notes on the #DigitalExclusion mapping work taking place in Manchester and London & scope out potential areas of #collaboration.
#DigitalInclusion #DataCollaboration #DataSharing #DigitalGovernment #Innovation pic.twitter.com/OiHprL38OJ

— London Office of Technology and Innovation (@LOTI_LDN) June 23, 2021
Improving Data Literacy in London
---
Last week LOTI hosted its latest Heads of Data and Business Intelligence (BI) and Data Science network meet-ups (slides for each, hyperlinked).
You may be aware that these networks form a part of LOTI's efforts to improve data literacy in London's public sector. In our Data Science Network meet-up, we hosted a Q&A for applicants to ask any questions they may have about the Data Science skills development programme we've designed in collaboration with the Office of National Statistics (ONS) Data Science Campus and the Greater London Authority (GLA). We were joined by three ONS Mentors and the Programme Manager who will be supporting this work.
The programme has been designed with the needs of members of our Data Science network in mind, with a focus on Data Matching for this pilot. Our desired outcome, through this programme, is to develop the capability and skills of officers and provide practical demonstrations of the value of data science within London local government. An overview of the programme is available in the meet-up slides, here.
2021 06 23 Data Science Network Meet Up

We were impressed by the applications we received, and after careful consideration, we selected 15 participants to form our first cohort. The list of the successful applicants are listed below:
| | | |
| --- | --- | --- |
| Name | Organisation | Job title |
| Chiadi Lionel | London Borough of Camden | Data Engineer |
| Lindsey Coulson | London Borough of Hackney | Master Data Analyst |
| Ian Hanson | Royal Borough of Kensington and Chelsea | Data Science Apprentice |
| Lee Latchford | London Borough of Havering | Business Innovation Officer |
| Yiran Wei | Greater London Authority | Senior GIS Analyst |
| Ejaz Hussain | London Borough of Hounslow | Data Scientist |
| Huu Do | London Borough of Hackney | Data Analyst Apprentice |
| Emmanuel Steadman | London Borough of Tower Hamlets | Intelligence and Performance Support Officer |
| Toby Meller | Royal Borough of Kingston upon Thames | Insight Manager |
| Karen Kemsley | London Borough of Lewisham | Data Scientist |
| David Saxton | London Borough of Tower Hamlets | Intelligence & Performance Officer |
| Anna Trichkine | London Borough of Hounslow | Data Quality Lead |
| Malgorzata Lachowska | Greater London Authority | GIS Officer |
| Sean Pedrick-Case | Lambeth Council | Data Scientist |
| Luke Ballance | London Borough of Camden | Data Analyst |
Congratulations again! We'll be adopting a Train-the-Trainer model. It is our hope that their colleagues will be able to get the benefits of the participants above securing a place on the programme as resources can be shared thereafter. We'll also host show and tell sessions for participants to share lessons with their respective teams.
The programme will officially launch on Monday 12 July, so do watch out for more information on this then.
Coming up this week
---
The LOTI Central Team will spend much of the week rounding off project outputs from our second-year in operation, and planning for our 2-Year Anniversary celebration.
For the latest on all things LOTI, follow us on Twitter.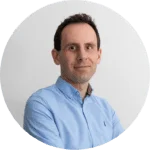 Eddie Copeland
28 June 2021 ·