LOTI Year 2 Strategy
---
LOTI celebrated its first anniversary on 15 July 2020. For all the details of our Year 1 work agenda and achievements, please see our Annual Report.
We've recently been working with our members to define what we want to focus on in our second year.
We've summarised our ideas in our Year 2 Strategy slide deck and in the 10-minute video below.
Why write a strategy?
This strategy is being written for two main reasons.
First, to identify what we will work on. We're a collective of organisations with a certain set of skills, resources and influence. We want to use those strengths to work on impactful, meaningful things. However, we can't do everything, so we must be clear on what things we believe to be the most important.
In all our activities, we therefore seek to focus on areas where:
The work matters – the intended outcome is important and meaningful
It plays to our expertise – there's a clear role for digital, data and/or innovation
We have power to make progress – it's within our sphere of influence to make change happen
There's clear added value from collaboration – we fulfil LOTI's primary purpose
It's compatible with the financial reality our members face – we strive to develop financially sustainable models.
Second, to ensure we can clearly articulate the 'why' of our work. Without a clear narrative, we can't inspire people to act, influence those audiences whose support and engagement is vital for our success, or fulfil our commitment to being transparent about our work.
The LOTI community works in a constant cycle of testing, learning and adapting. This strategy should therefore be considered a living document. We welcome comments and suggestions for its improvement.
For all the latest information on our work, follow us on Twitter.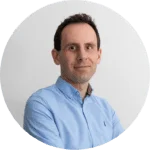 Eddie Copeland
28 September 2020 ·