Maintain, Fix, Equip, Create or Involve. What scale of solution do YOU need?
---
Recently I've been thinking a lot about problems.
For those of us working in local government, there's certainly no shortage. From the macro "What do we do about the pressures facing social care?" to the micro "Why do I have to enter the same information into three different systems?", we have the full spectrum to contend with.
Yet I'm not always convinced that we're having the right sorts of conversations about them.
During the summer of 2022, I remember reading dozens of news articles about adult social care. They reported that carers were leaving the sector in droves, health outcomes were falling behind, and financial pressures were set to bust local authority budgets. Yet the focus of many of the conversations I heard were about which IT systems might be slightly less bad than the current dominant supplier, or which assistive technologies would help people live with fewer in-person visits. Surely we need to be having a bigger conversation than just discussing the tech? 
On the flip side, I sometimes visit councils who are having huge conversations about bold reforms when their staff and residents are still filling in paper forms in key services. Might they have skipped a conversation about some of the basic fixes needed?
These are, of course, two extremes to make my point. But my underlying question is: When we consider any given problem, how do we have a sensible and proportionate discussion about the level of change we require to resolve it?
Let me share how I've been thinking about answering this.
The outcomes-driven approach
---
The first step is to be clear about exactly what problem it is we're trying to solve.
LOTI's outcomes-driven methodology can help with that. It starts with the end in mind, asking you to articulate what change you want to make in the world, or – put differently – which specific people you want to be better off in which specific ways because you act. This is your outcome statement.
It can help to think about this as a journey. 
Imagine your outcome as being a desirable destination you'd like to reach at the end of a long path. Now imagine you could write a postcard from that destination. What would it be like there? What would be different about it compared to where you are now? What would people be able to do there that they can't do where you are now?
As well as creating a motivating goal to work towards, defining desired outcomes in this way also helps you be much more specific about which problems you actually need to solve. A problem is simply any obstacle on the path preventing you from reaching your desired destination right now.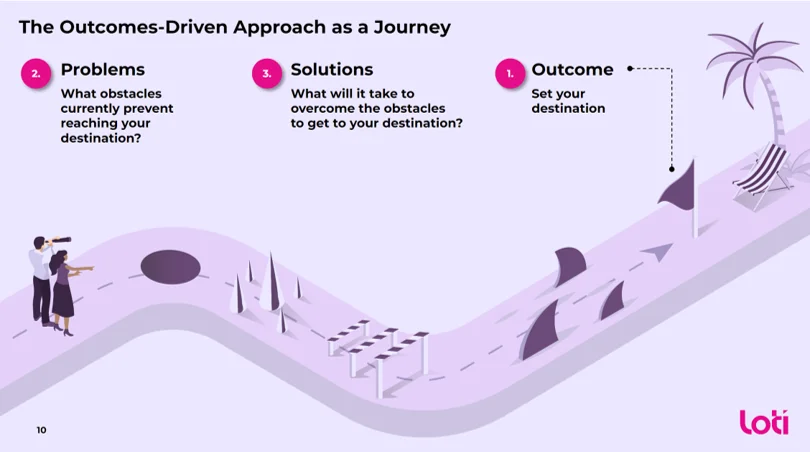 Once you're clear on the problems or obstacles standing in your way, you can finally have a sensible and proportionate conversation about how bold a solution you need to overcome them. Keeping with the metaphor of going on a journey, I think there are five levels of change or solution you can aim for.
You can:
Maintain the path better to stop obstacles appearing in the first place
Fix them (e.g. fill the hole)
Use better tools (e.g. you might need better or bigger step ladder)
Find a (new) route
Help others take the journey instead of you.
What level of change is needed in your context?
---
Let's consider each of these in turn, moving from the metaphorical to literal to see what this means in practice for problems and solutions in a local government context. Using your professional judgement – or workshopping this with a broad group of colleagues and other stakeholders – ask yourself honestly where you need to: 
1 – Maintain
Your process works. If it ain't broke – maintain it! 
Option number one is to maintain what you've got. If you think specific aspects of your process or service are fit for purpose and working well, ask yourself what it will take to ensure that continues. Good maintenance is so often underrated and undervalued. It requires time and continuous investment. Don't get complacent and forget to look ahead for potential changes in demand that might cause problems further down the line.  
2 – Fix
Your process has specific, identifiable flaws. Fix them. 
Option number two is to see if the problems you've identified are minor bugs. For example, the upload document function on that form on your website keeps failing, so residents quit the process and call the service centre. Fix the form, fix the problem. These problems may seem minor, but cumulatively they may be wasting hours of time, as well as generating a negative feeling towards the council by staff and residents. Fix them.
3 – Equip
Endless fixes still won't resolve all the flaws. Equip yourself with new and better tools or technologies. 
Option number three: Sometimes investing in a new tool – and making some small changes to process – can solve dozens of flaws in one go. For example, perhaps your problems boil down to the fact your IT systems in a certain service area are terrible, forcing staff to enter the same information multiple times, and requiring manual rekeying to update residents on progress. A more modern system, requiring modest changes to ways of working, may function better. 
This is the level where we can start to look at newer technologies and how they might significantly improve productivity. For example, LOTI is investigating how organisations are using generative AI to auto-transcribe hours of caseworker interviews, create action lists and update key stakeholders, freeing up front line workers to focus on higher value tasks.
4 – Create
Your process is no longer working (or you don't even have one). You need a whole new approach. 
Option number four is to forge a new path. Returning to the example given at the start of this blog, I'd suggest that the sheer scale and quantity of the problems we see in some areas of adult social care fit into this category. We'd be misguided to spend our entire time talking only about making minor fixes or just looking at new tools when key aspects of the service model itself look completely unsustainable. In these cases, you should think creatively about how the problem could be solved (and your desired destination be reached) in a fundamentally different way. 
One approach we use to do this at LOTI is to use our Service Innovation Cards. The deck of 36 cards represents different factors you can alter about a service in order to improve it. The 18 cards in blue are the factors organisations traditionally use to optimise what they already do. The six cards in pink represent more unusual factors and can lead to more dramatic changes. The 12 factors in yellow represent different roles a council can play. In a workshop, you can invite participants to pick any three cards – of which only one can be blue – and ask them what impact it could have on their service. Sometimes the answer will be silly or impractical. That's ok. The idea is to help generate new thinking.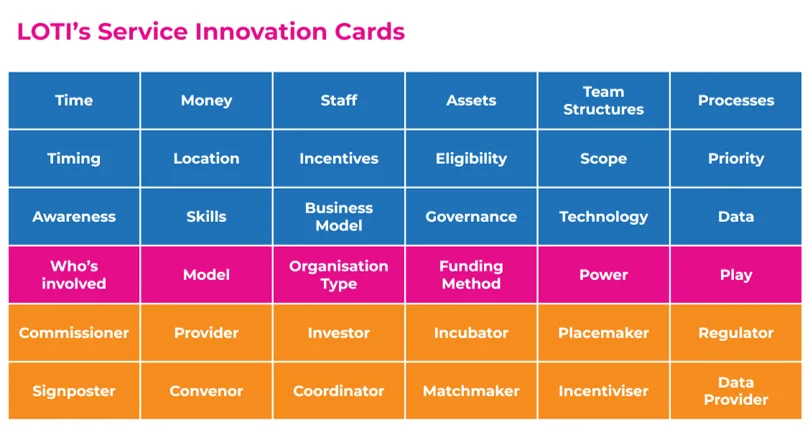 LOTI used exactly this approach in adult social care. We're now funding two pilots that test out what happens if we play with the pink and yellow factors. 
5 – Involve
You're not the right people to run this process (alone). Pass on the baton responsibly. 
Finally, you might consider the outcome you're trying to bring about and conclude that local government is simply not the right or only organisation to make it happen. But you shouldn't just hope that others will spring into action. You need to proactively consider how you can help others to act; to go on that journey instead of or with you. 
For example, with an issue like digital exclusion, councils certainly have their role to play, but they cannot and will not come into contact with every digitally excluded person. Recognising this, when LOTI developed Get Online London – the capital's digital inclusion service – with Good Things Foundation, we took a distributed approach, equipping public and third sector organisations with the ability to offer digitally excluded people the device, data allowance and skills they need.
Conclusion
---
The five levels described above are clearly arbitrary. Any given area of local government activity may require solutions that fall into more than one level. Yet my hope is that by being more open, honest and mindful about what level of change we think is really needed to achieve the outcomes we care about, our conversations will be more effective and likely to succeed.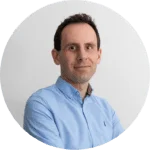 Eddie Copeland
24 October 2023 ·