10 things LOTI is doing to help boroughs access digital skills
---
Virtually all local authorities face big challenges in hiring and retaining the talent they need in the fields of technology, digital and data. 
The struggle is not merely inconvenient. It directly hinders councils from realising the full value of digital and data tools and methods. Without the right people with the right skills, user needs can't be researched, services can't be optimised, and data can't be analysed and interpreted.
Organisations will also fail to make the leap from having a traditional IT function to being genuinely digitally-enabled. That's digital in the Tom Loosemore sense, including culture, processes and business models, in addition to technologies. Check out the video below for more on that.
At LOTI, we see this skills access challenge as one of the most significant threats facing our community. It's one we want to tackle head-on. Here's how we're going about it.

1 – Digital Apprentices
One of our early flagship initiatives, led by Hackney, was to encourage the hiring of digital apprentices across our membership. After just a year, 104 apprentices were in place in LOTI boroughs, learning and bringing their talents to IT and digital teams. We held skills development sessions with that network – connecting them with the likes of Microsoft, Google and AWS – to help them learn key skills and explore their futures in the technology sector. 
It's worth emphasising that apprenticeships don't have to be confined to career starters, or even to new hires. Boroughs like Barnet, Hackney, Richmond and Wandsworth are using apprenticeships to enable experienced staff to make a career change and to upskill existing colleagues so they can bring even more value to their teams. In the next few months, we'll be creating guidance on how to use Apprentice Levy funding so others can use this model.
2 – Communities of practice
Regardless of their level, it's vital to develop and invest in existing members of staff. LOTI runs three communities of practice for data professionals. Our Data Leaders group convenes those looking at the strategic use of data in their organisations. Our Data Practiontioners group brings together analysts and managers who are using data daily to improve operational decisions. Our Data Scientists group provides training (most recently in partnership with the Office for National Statistics) to those using more sophisticated data methods using tools like Python and R. 
Through these networks, data professionals working in LOTI boroughs gain peer support, mentoring and the benefit of more minds to help think through their problems. That sense of connection and being part of a wider community is vital for making the sector more attractive to work in, and ensuring each professional is as effective as they can be.

3 – Diversity and Inclusion
Developing staff is not just about nurturing the domain-specific skills encouraged by our communities of practice. It's vital we work on diversity and inclusion, too. Put bluntly, the technology, digital and data community in London is still dominated by white men.
Things are changing.
Today we're fortunate to have some truly remarkable women leaders across LOTI's membership. Veronica Barella at Hammersmith and Fulham. Aruj Haider at Westminster. Rehana Ramesh at Brent. Amanda Stevens at Lambeth. Claire Priestley at Kensington and Chelsea. Kit Collingwood at Greenwich. Nafisa Bhamji-Patel at Newham and Havering. Yogita Popat at Barnet. Dionne Lowndes at Southwark. Cate McLaurin and Emma McGowan at Hackney.
Yet we still have a long way to go to ensure our community both looks and feels like one where all people can thrive. One specific measure we're taking is running a dedicated cohort of Lauren Currie OBE's highly regarded Upfront Confidence Course. 88 women from across the LOTI network started the course on 21 February, which is designed to help them feel more confident and assertive at work, become more professionally visible and learn how to strengthen their voice.

So much more needs to be done to address the gender and ethnic balance. This will be just one of many more steps we take to achieve that.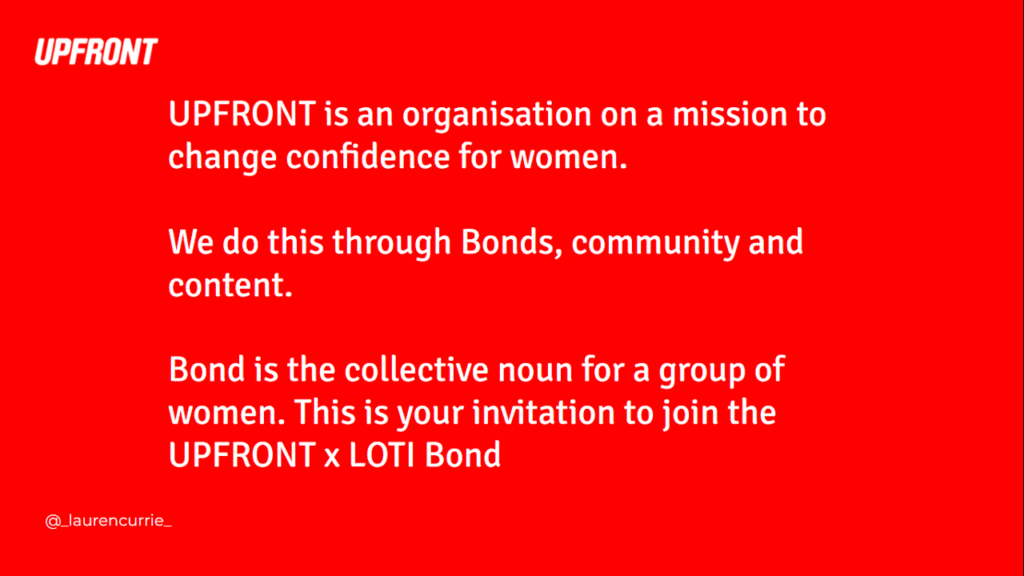 4 – Improving Recruitment
While some of the skills councils need are genuinely scarce, it's likely many could significantly improve their hiring outcomes if they updated their recruitment processes.

Why would candidates with strong digital skills want to work for an organisation that publishes its job descriptions (JDs) in badly formatted Word documents? Why would new graduates consider a job in local government when the job ads don't reach them where they are online? Why would someone working in a different sector apply for a local government role when the JD reads like a dry list of chores, littered with jargon? I could go on.

The good news is there are plenty of quick wins to be had. LOTI worked with recruitment consultant Joanne Cumper to write a guide to recruiting for hard to fill roles. It spells out simple things councils can do to provide a better candidate experience and increase their hiring success rate at each stage of the recruitment process. On a related note, I recommend reading Matt Juke's excellent blog: Top 10 tips for more successful job ads / descriptions.
5 – Standardising Job Descriptions and Salaries
Noting the importance of writing a good JD, LOTI's been working to make it easier to create them by building up a Job Description Library. It began with 45 well-written JDs generously contributed by Kit Collingwood and her team at the Royal Borough of Greenwich, and adapted by LOTI Fellow, Omid Shiraji.
We warmly invite all councils to upload their own JDs using this form. Many already have; there are now more than 110 to browse from, including salary details. By crowdsourcing these examples, we can continually build and refine a list of exemplar versions and support better salary benchmarking across our members.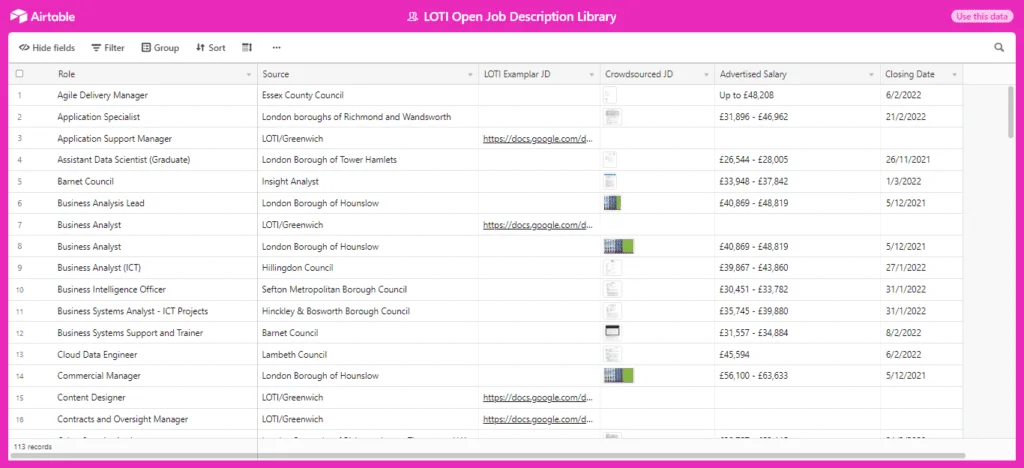 Over the coming weeks we'll be working with a specialist recruitment firm to conduct deeper salary benchmarking analysis with and for our members. We'll also be creating new exemplar JDs for key emerging roles in the sector, from Data Ethicist to Machine Learning Engineer, reflecting the evolving nature of the skills councils need.

6 – Digital Data and Innovation Capability model
Talking of new roles, Omid is also working on the development of a Digital, Data and Innovation Capability model for LOTI. Its purpose is to show what 'good' looks like in each of those three domains. Supported by Bloomberg Associates, we hope to publish the model as an online tool that enables boroughs to see what core functions, skills and roles they need in their organisations both now and in the future. The model will help boroughs have better conversations with their own leaders about investing in the capabilities they most need.
7 – LOTI Jobs Board
Launching on our website in March will be the LOTI jobs board. Using LOTI's brand and online presence, we hope to be able to promote jobs available across our membership to a far wider audience. Anyone interested in local gov tech, digital and data roles will be able to sign up for weekly alerts. As well as driving more candidates to our members' jobs pages, the board will enable us to add many more JDs to our Job Description Library, further building our database.
8 – LOTI Careers Day
On 1 March LOTI will be hosting the first of what we hope will become a series of careers days. The inaugural session will focus on data roles, focusing on dispelling some of the myths about the sector and highlighting the incredible human and social impact people can have in these roles. Featuring data professionals from across our membership, and a keynote from Mayor Philip Glanville (London Councils' Digital Lead), participants will hear about specific data initiatives and understand more about the day to day life of a localgov data professional. Register to attend on Eventbrite.
9 – LOTI Recruiter
From March, LOTI will be delighted to welcome a recruitment specialist to the community. Working 5 days a month, they will be in regular contact with LOTI CIOs and CDOs to hear about their recruitment plans and challenges, providing advice and support on hiring for specific roles, giving feedback on boroughs' recruitment methods, and helping draw in more out-of-sector talent. 

10 – Increasing capacity
Our final initiative is one that could change the shape of LOTI quite significantly. It seems clear that, in current labour market conditions, it's not realistic for every borough to have every skillset it wants in-house. Boroughs' current way of addressing this is typically to use consultants or freelancers. While there are many brilliant consultants available, relying on them too heavily fails to build and retain key skills within the London local government sector.
In response, LOTI proposes offering some high-demand roles as a service to boroughs, by recruiting them directly into the LOTI team and then hiring them out to our members. We plan to start with Service Designers – a critical role for councils wishing to behave more digitally. By offering the opportunity to work with and get exposure to multiple London boroughs, and a commitment to funding training, we believe these would be compelling job roles for high quality and experienced candidates.
Next steps
These measures are just the start of making a big dent in this issue. Many more will be needed to have the full impact we want to see, but we want to learn and adapt as we go.
One thing is clear. Getting this right will be key to our mission of helping London local government to fully realise the potential of digital and data innovation.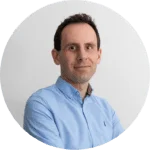 Eddie Copeland
23 February 2022 ·