Weeknote 38 of 2021
---
In this weeknote, we cover the latest on our work on digital inclusion, data skills and capacity, and the future workplace.
Choosing our next set of Digital Inclusion Innovation Projects
---
On Wednesday 20 October, we held our first stocktake workshop since the launch of the Digital Inclusion Innovation Programme (DIIP) in June 2021. The aim was to update boroughs and partners on the progress made with our Wave 1 projects and to share ideas for potential new projects and invite boroughs' feedback. The slides from that session can be viewed here and the full summary note is here.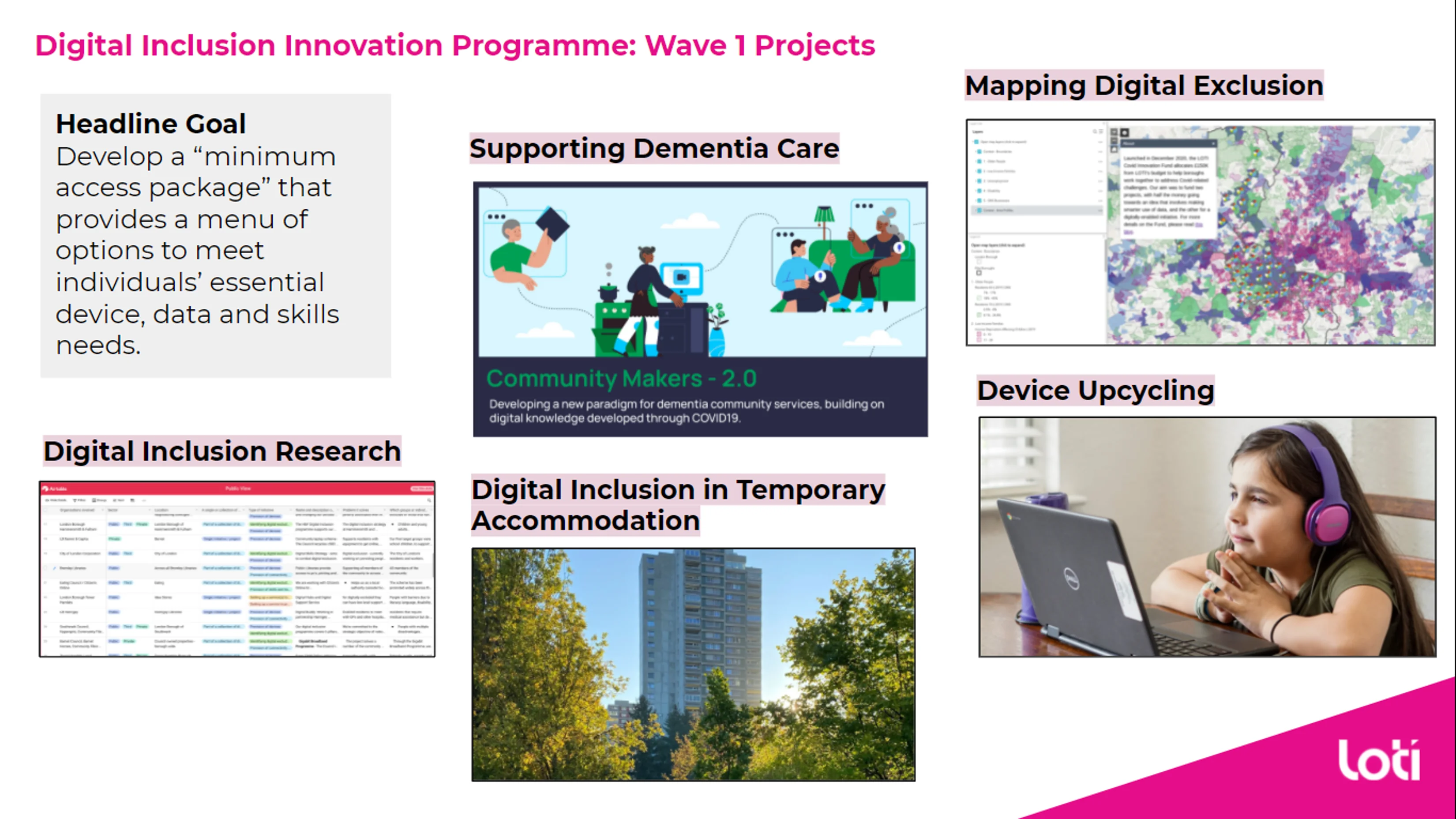 We explored six ideas for new projects suggested by boroughs and other partners over the past few weeks. At a high level they are:
1 – Triaging support for digitally excluded residents – This project would build on LOTI's digital exclusion segmentation analysis (part of our mapping digital exclusion project), to triage the needs of digitally excluded residents and help connect them with the services they need quickly and effectively.
2 – Supporting the 'Not for me' segment to get online – Surveys with over 800 residents in Westminster, Kensington and Chelsea found that almost a third of non-internet users reported having no interest in using getting online – the single most significant barrier to digital inclusion. This project will explore meaningful ways to introduce this diverse group to the benefits of being online.
3 – Maximising use of Adult Education Budget for digital skills – There appears to be wide variation in how much and how effectively boroughs use the Adult Education Budget to support the delivery of digital inclusion skills programmes. This project will work to help them get the most out of this source of funding.
4 – Providing devices – Recognising that not all boroughs will have enough of their own devices to upcycle (see our project on that topic) to benefit digitally excluded residents, this project will explore the other means at boroughs' disposal to provide devices.
5 – Using Social Value – The topic of Social Value comes up in almost every conversation we have about digital inclusion! This project will help boroughs direct the Social Value provisions of contracts towards supporting and funding digital inclusion related initiatives.
6 – Providing Social Tariffs – This project will work to combat data poverty by increasing the visibility and uptake of social value tariffs offered by telcos.
All the ideas above need working up in more detail. We were delighted to hear from volunteers from many different boroughs who will help us codesign them over the next couple of weeks before we launch them as fully-fleshed out projects.
If you'd like to get involved in any of these projects or suggest other ideas, please contact the LOTI team via Basecamp.
Supporting Dementia Care project
---
Since our initial discovery into dementia care last month, we've been working with our delivery partners at the Helix Centre to develop three prototype concepts. Last week, we shared our ideas with colleagues from Westminster, Lewisham, Hammersmith and Fulham and Age UK. They provided us with useful feedback to help turn these ideas into tangible prototypes that can be tested. In brief, these will look at: how we can increase the uptake of devices to enable digital connectivity; how we can support and configure devices to be tailored to individual needs; and how we can support community groups to carry out digital and hybrid activities.
This week we'll be following up with interested boroughs and planning the next steps which will lead us into Phase 2 of the project.
Digital Inclusion in Temporary Accommodation
---
The first sprint of our discovery with FutureGov into the nature of digital exclusion in temporary accommodation (TA) focused on making connections with housing and TA leads across the boroughs who could help us with our research. Thank you to everyone who helped with this, in particular to the boroughs of Waltham Forest, Kensington and Chelsea, Camden and Kingston, with whom interviews took place last week.
If you are a temporary accommodation commissioning manager or head of TA and would like to find out more about this project and share your own experiences in this area, please join us for our session on 5 November.
Reflecting on the LOTI-ONS Data Science Bootcamp
---
Over the past 12 weeks, data scientists and analysts from LOTI boroughs have been working with expert mentors from the Office for National Statistics' (ONS) Data Science Campus to develop their data matching skills. Our latest blog reflects on the programme including insights and feedback from the project participants. Check it out here.
In the video below, Hounslow's Anna Trichkine shares her reflections on the programme.
What's the future of council workplaces?
---
Our research on the Future Workplace is now in full steam. First and foremost, we have created and shared a form and database to help surface workplace practices that exist or are being developed in local government. The idea is to have real-time information available to decision-makers who are making decisions about their organisations right now. We invite any interested organisations to share their practices in our short (10 questions) survey form, and access the database to see what other organisations are doing.
We've also continued our interviews with boroughs across London. We're really grateful to colleagues from Waltham Forest, Barnet, Hammersmith & Fulham, Camden, Greenwich, Brent and Hounslow who have spoken to us to date. This has set a great foundation for complementary desk research. Last week, Sam Nutt was able to attend both a Microsoft and OECD conference on the new world of work. We're also reaching out and having conversations with external experts in the coming weeks to further enrich our findings. We'll be sharing our initial findings with our members at our next all-member meeting on 10 November, with a full report and show and tell at the start of December.
Coming up
---
This week we'll be:
Ploughing on with our discovery into digital exclusion in temporary accommodation, alongside our partners at FutureGov.
Arranging discussions to flesh out the detail of our six new digital inclusion projects
Refining our Objectives and Key results for our second quarter, following last week's publication of our Q1 results.
For all the latest news from LOTI, follow up on Twitter.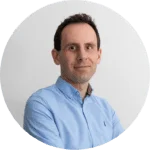 Eddie Copeland
25 October 2021 ·